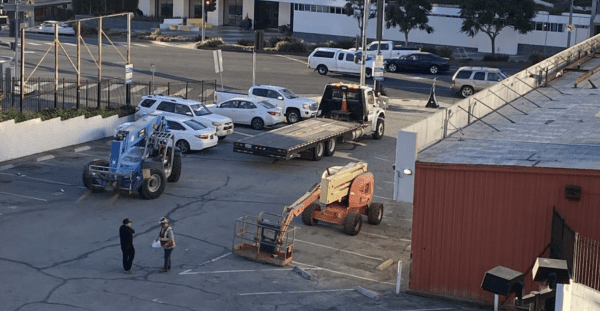 They weren't supposed to start until 8 a.m. this morning, but work crews were seen and heard around 7:30 a.m. as they began transforming the former Tower Records on Sunset Blvd. into the L.A.'s area second Supreme location.
While developers notified nearby residents of the impending construction via text, neighbors remain wary after a recent Zoom meeting held by Afriat Consulting Group meant to assuage fears instead left many questions unanswered.
Though construction noise and debris was a concern, most residents at the meeting wanted to hear about the store's operations — specifically, how the company planned to avoid the ruckus and traffic generated by the Supreme store on Fairfax Ave. Afriat's Aaron Green curtailed discussion on that topic.
Construction is scheduled to be completed in August. Residents with questions or concerns can call (818) 450-2774.