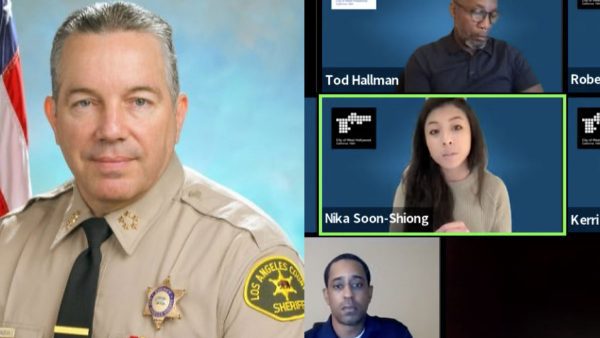 Nika Soon-Shiong, a vocal critic of the Sheriff and advocate for alternative policing, accused the department of charging the City of West Hollywood between 45 and 50 percent above average for providing law enforcement services.  She based her findings on an unpublished budget analysis of unknown provenance which the city is now working to release to the public.
She leveled the jaw-dropping accusations at Monday night's Public Safety Commission during her commissioner comments:
"Over the past several months, I've requested budget documents, cost models, which in typical proceedings would have been rushed through in PDF presentations by the Sheriff's Department. After several requests and hours of research I've shared with the commission today and analysis that's been conducted in conjunction with a team of budget analysis experts with the caveat that these numbers are subject to change pending additional transparency from the L.A. County Sheriff's Department.
"The top line is that we are paying as a city between 45 and 50 percent above average LA Sheriff's Department costs. That means that a sheriff's deputy/officer, including salary and benefits, is typically $175,000 in West Hollywood. It's between $300,00 and $318,000. So key questions that emerge from this — 1) Is this from overtime? 2) Is this from the overall costs rising? And 3) Is this normal?l How does it compare to other cities?
"Although overtime at the county level is difficult to track and the Sheriff's Department claims that contract cities do not incur overtime expenses. First off, a November 21, 2021, letter outlines an average of $12,000 per sheriff's officer for overtime. So even when overtime and liability are included, we are still incurring a whopping $75,000 unaccounted per officer.
"Is the increase that we are paying — up to 50% per officer — due to cost of 'everything rising,' which is what has been responded to me when I asked about the full time employment cost per officer. The average cost per full time officer has doubled in the past 10 years. It has increased by 100%, whereas the consumer price index has increased by 22%.
"And the third question, I think we need to ask ourselves and each other when we see these numbers, is how does this compare to other cities? And so we received a spreadsheet that compared the cost that we pay in conjunction with neighboring cities with independent police departments.
"And it's true that West Hollywood pays less per resident, than cities that pay the county sheriff's office, but these estimates have been overstated. The sheriff's department has overstated the difference, in particular, inflated the cost of Beverly Hills police department by double counting pensions costs.
"According to the city, West Hollywood is billed for 60 officers, but there are 99 sworn employees.
"And this billing practice means in summary that there are 39.3 full time employees, 65 percent of staff are not accounted for in public documents shared with us. So what is their function? What is their cost?
"And how can we perceive this cost and download it into the overall cost, without transparency into who or what this additional staff time is providing?