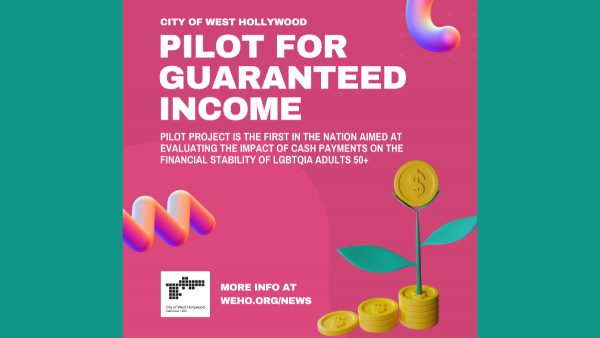 West Hollywood will begin offering "unconditional" monthly cash payments for qualifying residents as part of a new guaranteed income pilot program.
The city will give $1,000 each month from April 2022 through September 2023 — a total of $17,000 over 17 months — to 25 randomly selected residents who sign up for the program.
Participants must live in West Hollywood, be 50 years old or older, identify as LGBTQIA and make $41,400 or less per year. Interested residents can apply here. The application period begins Feb. 26 and ends March 6.
Guaranteed income has become a red hot topic within city government over the past year. Both Mayor Lauren Meister and former mayor/current Councilmember Lindsey Horvath have been involved with the Mayors for Guaranteed Income coalition, a network of mayors around the country running guaranteed income test pilots.

 Loading ...
"Why is West Hollywood experimenting with universal basic income?" wondered San Francisco Chronicle last August as city staff were designing the guaranteed income program for WeHo, which it noted has a median per capita income that is twice the national average.
Nika Soon-Shiong, a Public Safety Commissioner appointed by Horvath, is even more deeply involved in the guaranteed income movement.
The daughter of Los Angeles Times owner and billionaire mogul Patrick Soon-Shiong is co-director of the Compton Pledge, which TIME magazine called a "laboratory for wealth distribution" that "gives some of society's poorest and most marginalized people cold-hard cash, and then lets them spend it however they want." She established the World Bank Group's strategy for managing partnerships with global technology companies and researched cash transfer systems as a graduate student at Oxford University.
We're excited to welcome Mayor @LindseyPHorvath of West Hollywood, CA to MGI! The need for bold leaders has never been greater as our nation endures the ongoing economic crisis. pic.twitter.com/7Pa48i5MvU

— Mayors for a Guaranteed Income (@mayorsforagi) February 1, 2021
MGI is thrilled to share our new Mayor @meister4weho joining the team! Mayor Lauren Meister is the force behind #WeHo first guaranteed income pilot focused on the LGBTQIA adult community & we are here for it 🙌🏽 #MayorsforAGI pic.twitter.com/V2VF0yIBtc

— Mayors for a Guaranteed Income (@mayorsforagi) February 17, 2022
It's Mayor Monday! Today we thank West Hollywood Mayor @LindseyPHorvath for supporting Guaranteed Income. Our movement appreciates the work you do for this cause, thank you for being a part of @mayorsforagi! #TeamUBI pic.twitter.com/USYkEjXfjq

— Income Movement (@income_movement) April 12, 2021
---
The City of West Hollywood, in collaboration with nonprofit partner, National Council of Jewish Women/LA, will open applications for the first pilot project for guaranteed income in the nation aimed at evaluating the impact of cash payments on the financial stability and quality of life of LGBTQIA older adults. Guaranteed income is a direct and regular cash payment – no strings attached – provided to a specific group of people for a designated time. Guaranteed income pilots are a way to test the impact of these payments, while also providing a service to help financially stabilize community members and learn information to help create future, evidence-based policies and programs.
Community members who are interested in applying for the West Hollywood Pilot for Guaranteed Income must reside in the City of West Hollywood, be 50 years or older, identify as LGBTQIA, and have an individual income of $41,400 or less. The application period will open on February 25, 2022 and will close on March 6, 2022. The program will be facilitated by the National Council of Jewish Women Los Angeles. Learn more and apply online at  www.ncjwla.org/whpgi. People who need assistance applying may call (323) 852-8500, ext. 650, or may send an email message to whpgi@ncjwla.org.
A total of 25 qualifying participants will be randomly selected from the pool of eligible applicants to receive unconditional monthly $1,000 payments from April 2022 through September 2023.
In January 2021, the West Hollywood City Council approved an item for the City of West Hollywood to join the Mayors for Guaranteed Income (MGI) network and directed staff to develop a guaranteed income pilot program for West Hollywood, including identification of research, funding, community implementation, and evaluation partners.
There are numerous cities, counties, and private guaranteed income pilots happening throughout the nation, all providing unconditional cash payments to determine the impact of guaranteed income. The City of West Hollywood seeks to test the emerging promise of guaranteed income to help prevent homelessness, support community members as they age in place, and to reduce the stressors of poverty and financial insecurity. The City, with the help of Mayors for a Guaranteed Income (MGI) and the Center for Guaranteed Income at the University of Pennsylvania (CGIR), has developed a data-driven guaranteed income pilot that will be the first LGBTQIA-focused pilot and the first older adult-focused pilot in the nation.
The West Hollywood Pilot for Guaranteed Income seeks to examine impact in the following areas:
·       Effectiveness of guaranteed income on participants' housing stability, health and mental health, and economic security;
·       Quantitative data to evaluate the collective impact of guaranteed income on different populations;
·       Unique qualitative narrative and ethnographic information to provide greater understanding into the income challenges faced by LGBTQIA older adults in West Hollywood and inform the creation of evidence-based policies and programs to better support the health and well-being of LGBTQIA older adults; and
·       Test the concept of guaranteed income to evaluate whether to expand the initial pilot or create new/additional pilots in the City.
Focusing these efforts on LGBTQIA older adults living on a low income aligns with the City's history, current demographics, and data indicating the vulnerability of this population. According to the Williams Institute at UCLA's School of Law, LGBT older adults are financially less secure than their non-LGBT peers due to lifelong disparities and barriers to accessing programs that support aging adults; the national poverty rate for LGBT people is 21.6 percent as compared to 15.7 percent for cisgender non-LGBT people.
The local community's high percentage of older adults living in poverty and the high percentage of LGBTQIA residents makes West Hollywood an ideal location to pilot this focused intervention. The 2019 West Hollywood Community Study previously identified the financial vulnerability of LGBT individuals, older adults, and community members living on fixed, low incomes. According to Community Study data, residents ages 55 and older make up 23 percent of the City's population but represent 44 percent of the residents living in poverty. Overall, 22 percent of the City's residents live on a fixed income, 14 percent live below the Federal Poverty level, and 27 percent of households have incomes of up to 200 percent of the Federal Poverty Level. Additionally, nearly 80 percent of West Hollywood residents are renters, and the cost of rent is higher in West Hollywood than many other areas and is not a fixed cost.
The economic impacts of the COVID-19 pandemic have exacerbated the challenges facing people living in poverty and created financial stress for countless others who have lost jobs/wages. Since March 16, 2020, the City of West Hollywood has provided more than $1.5 million dollars in rental assistance to West Hollywood residents that were unable to pay their rent due to COVID-related impacts.
The City will be engaging two nonprofit partners in the pilot. The first is the Center for Guaranteed Income Research at University of Pennsylvania as the research and evaluation partner responsible for creating and administering the research instruments, conducting the randomized selection of eligible applicants to participate in the pilot, collecting/processing/analyzing the data, and providing a report on the findings.
The City's second partner in the pilot is the National Council of Jewish Women Los Angeles (NCJW|LA) as the nonprofit administrator implementing the pilot. NCJW was selected for its knowledge, experience, and understanding of the nuances of guaranteed income. NCJW will be responsible for conducting outreach to the community about the pilot, assisting community members to complete applications, verifying that West Hollywood residency and other pilot criteria are met to ensure the eligibility of each applicant, submitting the completed and verified applications to CGIR for the randomized selection of participants, and notifying the participants selected by CGIR. They will also conduct onboarding and provide individualized benefits counseling for each participant, manage a storytelling cohort and storytelling activities that complement the research component of the pilot and provide the participants an opportunity to share their experiences in their own voices. In addition, the nonprofit administrator will subcontract and coordinate services with a nonprofit financial distributor (utilizing debit card services) to ensure that funds are distributed to participants in a timely, predictable, and seamless fashion.
More information about research and evaluation, as well as pilot partners and pilot funding is available in the December 2021 City Council item staff report available at: https://www.weho.org/home/showdocument?id=52050&t=637794969363854009