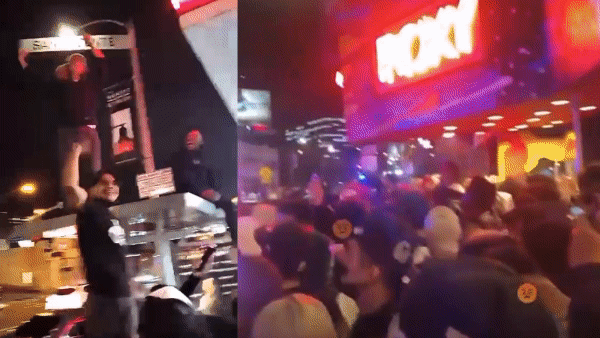 The L.A. County Sheriff's Department had to shut down Sunset Boulevard on Sunday night when about 1,000 people flooded the street after a concert at the Roxy in West Hollywood was canceled at the last minute.
Hip-hop artist Yeat apparently pulled out of his 8 p.m. performance at the classic WeHo music venue, and the Sheriff's Department said the concert was vastly oversold. The building's official maximum capacity is 500 people, according to AEG. Police dispatch received the first call about the crowd at 7:57 p.m.
Videos posted on social media and Citizen app reveal a chaotic scene, with throngs of young concert-goers inside and outside the Roxy, some climbing signposts and other property. Nearly a dozen law enforcement vehicles are shown lined up along Sunset Blvd. as police helicopters fly overhead.
There were no reported arrests or injuries. The incident comes one night after police in Beverly Hills managed to shut down a "street takeover" involving more than 100 vehicles attempting to perform donuts in the middle of the intersection for 150+ onlookers.
It's not the first time crowds have massed outside the Roxy, forcing Sunset Blvd. to be closed.
Large, unruly crowds have also set the stage for recent shootings in the Fairfax/Melrose commercial corridor, and neighbors fear a new streetwear store opening in the former Tower Records building down the road from the Roxy will usher in further mayhem.
Footage of Yeat's show getting shut down 😳. #Yeat #0808Ent pic.twitter.com/9h50Fx2i0F

— @0808ent (@0808ent2) February 21, 2022
John Schreiber, KCAL9: Sheriff's deputies shut down Sunset Blvd in West Hollywood tonight as a crowd gathered outside the Roxy Theatre where rapper Yeat was hosting a listening party. pic.twitter.com/IBtf7iWj1I

— Doctor Da Punchy (@_Knock_U_out_) February 21, 2022
Yeat LA pop up got shut down by 12.. security guard got punched & people rushed in pic.twitter.com/Y5NuiZ5Zk9

— fucksh!t 🥷🏽 (@xvrcklss) February 21, 2022
bro the show got cancelled… still saw yeat tho pic.twitter.com/BO8Mjsp3xM

— segen (@segenhf) February 21, 2022
just wanted to get dinner but apparently some guy named "yeat" shut down the whole street. pic.twitter.com/MbbfJONcVu

— jonas (@jonaspoggers) February 21, 2022