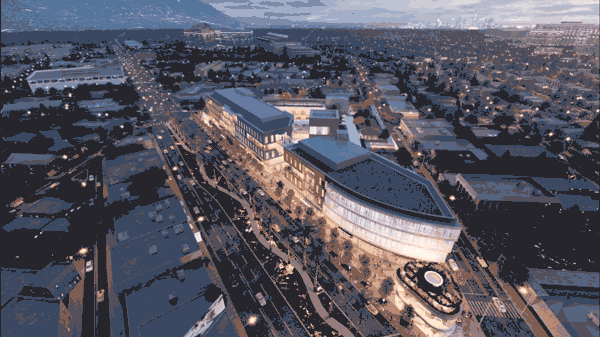 The Melrose Triangle project, eight years in the making, has finally received the green light from West Hollywood's Planning Commission.
The sprawling development will encompass the entire triangular lot between Santa Monica Blvd., North Almont Drive. and Melrose Ave., and will be comprised of three separate buildings — the Boulevard Building, the Gateway Building and the Avenue Building.
The project was presented to the Commission with a number of changes from previous drafts of the design, including:
increase from 76 residential units to 80 residential units
increase from 137,064 square feet to 260,719 square feet of office area
decrease from 45,112 square feet to 44,583 square feet of retail
removal of art gallery and design showroom uses
increase in indoor restaurant/café areas from 8,202 square feet to 15,986 square feet
addition of designated outdoor dining area of 3,902 square feet
parking reduction from 884 spaces to 526 spaces
removal of vehicular access along Santa Monica Boulevard
addition of a public central landscaped courtyard
The commissioners' approval of the project was preceded by a discussion that included such points as; the viability of so much office space, the reduction of parking from its original 2014 plan, the size of housing units and most importantly the function and design of the "Pavilion" building on the project's western tip.
In the end, the commissioners asked that the Pavilion building (the lower right structure in the picture) incorporate mechanized lift up glass doors on the first floor and awnings on the second floor.
Commissioner Michael Lombardi said he believed the project could revitalize this most western portion of West Hollywood which has for many years just been a hole in the ground.
"Is it perfect, no. But thinking about the alternatives and maybe previous plans that were considered for this site, it does seem like it's an improvement," he said.