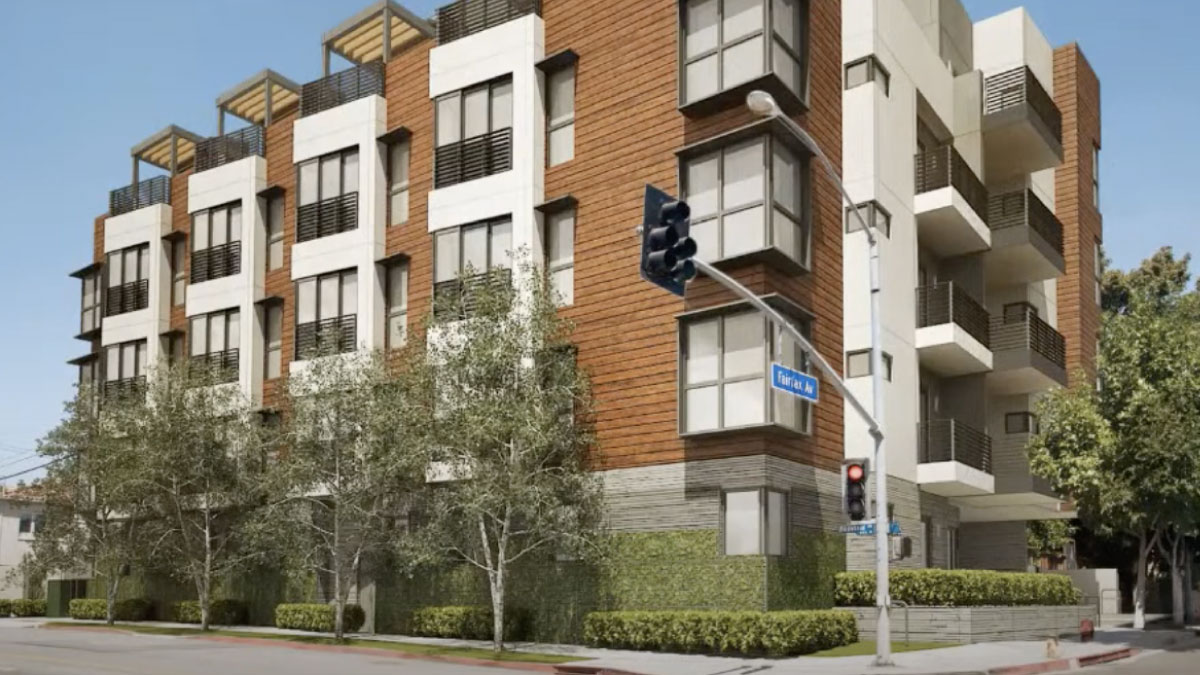 The controversial co-living apartment project at Fairfax and Fountain crossed the final hurdle on its road to being built Tuesday night as City Council in a 4-1 vote denied an appeal to stop it from proceeding.
Council first reviewed the appeal back in December and found enough merit in it to have developers make last-minute changes before Tuesday's re-evaluation.
The project drew intense opposition on a number of fronts.
The developers, represented at the meeting by Edward Levin of Levin-Morris Architects, described the building as having 17 "dwelling units" — which is not the same as individual apartments. The 17 dwelling units are actually 79 separately leasable rooms, each clustered in groups of four or five in order to share a single kitchen, living room, dining room and laundry space.
While Levin trumpeted the building as avante-garde affordable housing, neighbors behind the appeal, along with many on City Council, instead saw a clumsy, disingenuous attempt to take advantage of the State of California's density bonus law, which allows for a 50 percent bonus of up to six units in exchange for providing the affordable housing units.
The semantics confused and angered residents like Robert Smith, who lives in Spaulding Square.
"I'm offended by this bureaucratic conversation," he said. "This whole project is so big and so dangerous that I don't know how the conversation got this far. You can sit and watch absolute chaos — it's a really dangerous corner. The only benefit is to those who profit. All this description of whether it's an SRO or apartments, who's going to be there, 10-foot-setback — I think that's all just bullshit. You're pigs to want to keep building this."
The affordable housing units were originally clustered together instead of spread throughout the building, which led Councilmember John Erickson to pause the approval process in December. But while the alterations presented Tuesday night satisfied Erickson and the other three councilmembers, they did not persuade Mayor Lauren Meister, who sided with the appelants during the final vote.
"I'm not convinced by staff's arguments," she said. "Their responses do not prove that the project is not an SRO," referring to a single-room occupancy unit, a designation which would have given the city much greater oversight of the project.
"I agree that the parking allocated for 79 bedrooms, some of which might include two people, is insufficient," she said.
The building will have only 32 parking spaces — 30 assigned to residents, and two spaces dedicated to offstreet delivery. Developers believe the future tenants will not necessarily be automobile owners, an idea ridiculed by opponents of the project.
"Where do we plan on putting those additional 40 vehicles?" asked Robert Chan, who lives nearby on Orange Grove.
"I agree that public safety is jeopardized by having ingress, egress and delivery drop off in a right turn lane of a major corridor," Meister continued.
"I agree that PC (Planning Commission) erred by legislating a new zoning category on the fly without design guidelines and without standards."
Meister then assailed several of the rationales used to defend the project.
"The applicant has no right to tell the city what affordable rent should be, and the applicant's ability or inability to profit off those affordable units is really not our problem. Further, the applicant doesn't get to claim the affordable bedrooms are units in order to get higher rent yet claim that the rest of the project is comprised of households in order to have lower parking requirements."
"I understand that my colleagues are going to vote for this without even hearing my comments," she said in closing, "but I just want to make sure that it is on the record."