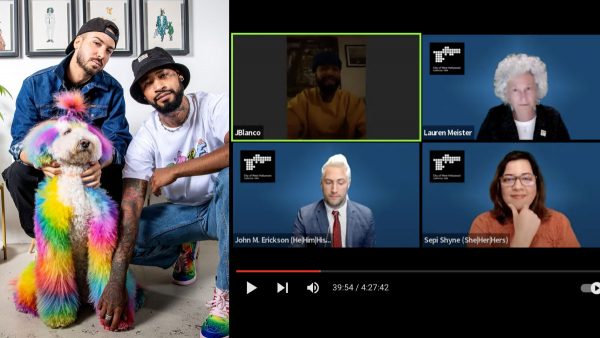 Mayor Pro Tem Sepi Shyne honored Joshua White and Mehdi Rezig, owners of Dogue Spa in West Hollywood, with a proclamation at City Council's meeting Tuesday. Here's what she had to say about the pair and their successful pet grooming business:
"I thought it would be important for Black History Month for us to do a presentation that would be related to some local history and related to a local business that is black- and brown-owned, and I just adore the owners of this business. Chloe the Queen of WeHo, my dog, as well as Winston of WeHo (Councilmember Lindsey Horvath's dog) both go to Dogue Spa. 
"Josh, one of the owners, and their dog, Snow, became an internet and television sensation in 2020 after competing on 'The Pack,' a dog travel competition series on Amazon Prime. The Pack brought a new audience endeared by Snow's calm nature and colorful coat and Josh's sweet and sensitive demeanor and opened up new opportunities for the dog and owner duo.
"Josh and Snow were named fan favorites by the show's most engaged viewers.
"Josh has since started a podcast called After Bark with fellow contestants from The Pack.
"Episodes range from dog nutrition tips with celebrity dog trainers to adoption and rescue stories. Snow and the other co-hosts' dogs can often be heard howling in the background. 
"Josh and his partner Mehdi are not only partners in life but they own a small business. 
"Having a black-and-brown-owned business has its own barriers, but they're also part of the LGBTQ community and they're also residents neighbors of mine and Councilmember Horvath's, so it is my honor to present this proclamation:
"Whereas in March 2018 life and business partners Joshua White and Mehdi Rezig opened West Hollywood dog grooming salon Dogue Spa with the hopes of modernizing and diversifying the pet grooming industry and whereas originally from Algeria and raised in Switzerland, Rezig has used his corporate finance background to complement White's love for animals and fashion aesthetic for building their growing business.
"Los Angeles native Josh White has always had a passion for animals especially dogs and knew from a very young age he would be working with dogs, volunteering much of his time at numerous dog shelters and working as a vet technician at local grooming salons.
"Whereas located on santa monica boulevard Dogue Spa offers a unique high-end salon experience and specializes in stylish cuts, precision trims and vibrant dye jobs that attract regular celebrity clients and faithful dog owners.
"Recently Dogue Spa was named best dog groomer of L.A. by Los Angeles Magazine and continues to be a local hot spot right here in West Hollywood.
"Dogue Spa also offers traditional grooming services and remains committed to providing the highest level of service and care to every four-legged friend and owner that walks through their doors.
"Now therefore be it resolve that the City Council of the City of West Hollywood hereby recognizes Dogue Spa for pushing the boundaries of creativity and providing a unique dog grooming experience for West Hollywood residents and the larger Los Angeles community."
JOSH WHITE: "I started Dogue with my boyfriend, and it was just an idea I had. I've always worked with animals my whole life. I love dogs so much and Mehdi helped me make my idea a vision. And it's just so cool because I was afraid coming into West Hollywood at first being this black guy with tattoos, piercings, dress crazy, and I never knew if people would take my work or my aesthetic seriously. And the whole neighborhood just took me with like open arms and of course, Snow, and I couldn't imagine doing it like anywhere at all besides West Hollywood."