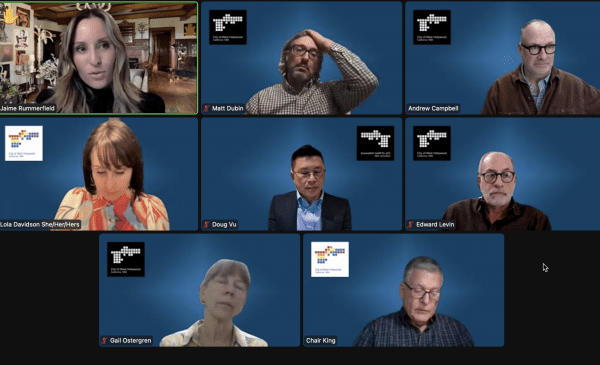 The Historic Preservation Committee on Monday decided to postpone a discussion about making the Standard Hotel a "designated cultural resource" of the city of West Hollywood — but that didn't stop a swarm of public commenters who support the measure from speaking up during the meeting.
The Mid-century Moderne style building at 8300 West Sunset Blvd. was built in 1962 by the Julian Weinstock Construction Co., and it was originally called the Hollywood Thunderbird Inn. The hotel was part of a grand plan to redevelop the Sunset Strip into a high-rise financial district.
After almost three decades as a retirement community, the building was purchased by Andre Balazs, who led the renovation of the Chateau Marmont in 1990. With the backing of Leonardo DiCaprio, Cameron Diaz, Benicio del Toro, and members of Smashing Pumpkins, Balazs set about the task of making the building a hotel again.
Balazs reopened it as the Standard Hotel in March 1999, the first of a chain of six hotels that were designed to be "cheap chic." It became West Hollywood's hottest hotel, with average monthly occupancy of 95 percent.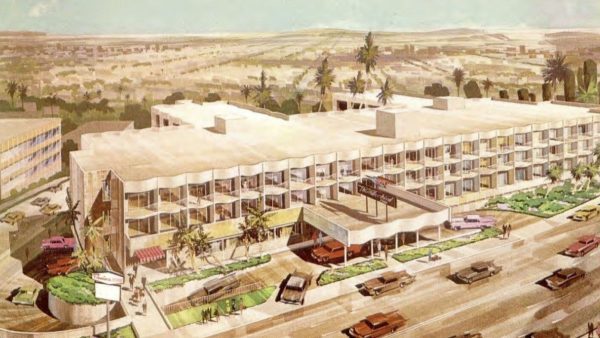 The property has been determined eligible for National Register, and it appears to be individually eligible for local listing or designation through survey evaluation.
During Public Comment, Jaime Rummerfield spoke on behalf of the Save Iconic Architecture organization, channeling the urgency among the crowd.
"We are happy to be here tonight as a part of the commission's hearing even though we're disappointed to have the agenda remove our submission for the designation this evening, we are looking forward to the next round of hearings in the upcoming months," Rummerfield said.
"Only the attorney for the present owner wants the delay," said Keith Nakata. "So now is the right time to look at this building, determine baseline standards before a new owner decides to make additions or changes that are inappropriate with the government."
"The reason we wanted this considered is because even if a building that's considered significant has state historical preservation, it has not protected them previously from demolition by overzealous developers and owners," said Peter Gurski. "And our concern is that if we do not put on these extra layers of protection, the current owner will demolish the building or the new owner will demolish a significant building without due process. And many of the developers really don't care."
The city adopted a Historic Preservation Ordinance in 1989 and has designated over 90 historic and cultural resources, including six historic districts.