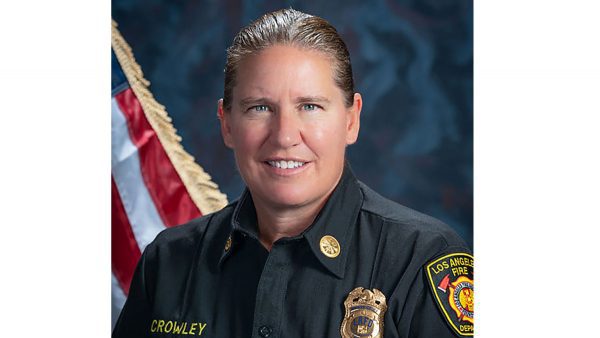 Following the Los Angeles City Council's unanimous confirmation today of Kristin Crowley as the next Fire Chief of the Los Angeles Fire Department (LAFD), the Los Angeles LGBT Center's Executive Director Joe Hollendoner issued the following statement:
"The Center applauds the historic confirmation of Kristin Crowley to lead the fire department of the nation's second-largest city. She is the first female fire chief of the LAFD and the first openly LGBTQ person to hold the position. She has dedicated more than two decades—previously as the City's first female and first LGBTQ Deputy Chief Fire Marshal—to serving our communities and ensuring the safety and well-being of all Los Angeles residents. We cannot imagine a more qualified candidate for the job.
"We thank the City Council for unanimously approving Crowley's appointment, and we commend Mayor Garcetti for nominating her from the beginning. Crowley now joins a handful of pioneering LGBTQ fire chiefs nationwide who are out and proud, and we salute her for being an LGBTQ role model who has been making a positive contribution to our city.
"Congratulations, Chief Crowley! It is evident to me from our conversation prior to your confirmation that you are highly committed to strengthening the relationship between LAFD and Los Angeles's LGBTQ community. Everyone here at the Center looks forward to partnering with you, and we wish you the very best during your tenure."
#
About the Los Angeles LGBT Center
Since 1969 the Los Angeles LGBT Center has cared for, championed, and celebrated LGBT individuals and families in Los Angeles and beyond. Today the Center's nearly 800 employees provide services for more LGBT people than any other organization in the world, offering programs, services, and global advocacy that span four broad categories: Health, Social Services and Housing, Culture and Education, Leadership and Advocacy. We are an unstoppable force in the fight against bigotry and the struggle to build a better world; a world in which LGBT people thrive as healthy, equal, and complete members of society. Learn more at lalgbtcenter.org.