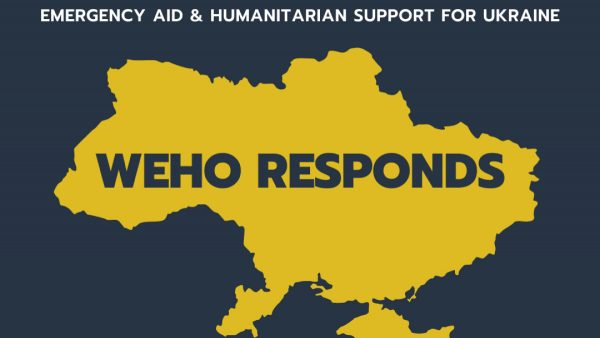 The City of West Hollywood is encouraging community members to take part in donating to organizations that are in urgent need of contributions to provide support in Ukraine, such as emergency aid, medical care, humanitarian support, and more.
The City of West Hollywood is activating its West Hollywood Responds program to help encourage contributions to agencies and organizations that are working to help people in Ukraine as well as those seeking refuge. The City has assembled a list of organizations on its website at www.weho.org/wehoresponds.
"In Ukraine, the unprovoked attack of Russian military forces has caused an immediate crisis of human suffering and need," said City of West Hollywood Mayor Lauren Meister. "Many West Hollywood community members are reaching out and asking what they can do to help. There are lots of organizations that are focused on immediate assistance to people in Ukraine and I know West Hollywood's residents and business will generously aim to help people in Ukraine who have been forced to flee from their homes and communities as violence escalates there. We must do what we can to help."
West Hollywood's core values include Responsiveness to the Public and the City of West Hollywood has a deeply held commitment to responding to humanitarian emergencies whenever and wherever they may develop. As such, the City is mindful about the important role that local governments and organizations play in mobilizing assistance for communities when there is need.
In 2005, the West Hollywood City Council first established West Hollywood Responds as a local disaster relief program developed to provide assistance to the Gulf Coast region following Hurricane Katrina. It has been reactivated multiple times during the past several years.
On Friday, February 24, 2022, the City of West Hollywood issued an official statement as Russian military forces began attacks in Ukraine: "In the City of West Hollywood, our thoughts today turn to the people of Ukraine and to our community members of Ukrainian descent and from former Soviet republics, many of whom are deeply concerned about family and friends in the region. West Hollywood has a core value of respect and support for people and our city has a thriving community of residents with roots in countries that were former Soviet republics. We join with people and communities across the globe in calling for an immediate end to this aggression. There can be no justification for the human suffering that will result from the unprovoked attack of Russian military forces. War is never the answer. We stand for peace and we stand with Ukraine."
In the days that followed the initial military escalation in Ukraine, the City of West Hollywood lit its City Hall building and globe lanterns on Santa Monica Boulevard in yellow and blue, the colors of the Ukrainian flag, in a show of solidarity and support for Ukraine.
For more information about the City's West Hollywood Responds program, please contact the City of West Hollywood's Community & Legislative Affairs Division at (323) 848-6333. For people who are Deaf or hard of hearing, please call TTY (323) 848-6496.