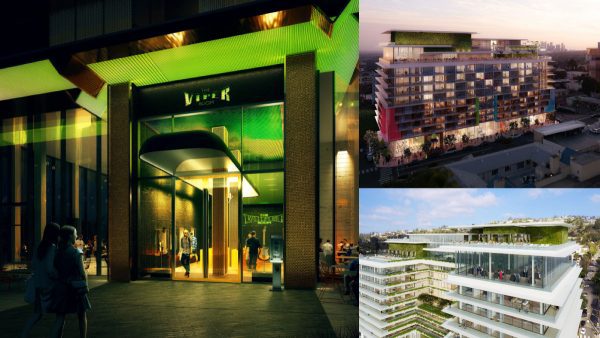 New plans for 8850 Sunset Blvd. give the club a rock 'n' roll makeover and bring a five-star hotel to West Hollywood
The Viper Room is finally getting a comeback.
Brand new designs for the 8850 Sunset Boulevard property have appeared on the development's website, nearly six months after public backlash over the previous design reached a fever pitch, and they reveal a major revival is in store for the iconic rock n' roll club.
The re-imagined Viper Room retains its signature black, grey and green color scheme in a higher-energy entranceway. The venue itself will house a larger concert stage and auditorium, a hall of memorabilia and a professional recording studio, all with modern soundproofing to "keep the music inside, not out in the neighborhood," the website states.
The Viper Room will sit at the ground floor of the revised mixed-use project, which is far more restrained than its towering, high-concept predecessor, described by some residents as a "monstrosity." The 10-story building is more in line with the area's trending architecture, and it will feature 26 market-rate units and eight "restricted-income" units, all with terraces; four street-level restaurants; a 3,000 square-foot adaptive conference space; a public rooftop bar and restaurant — and the "first and only five-star" hotel in West Hollywood, with 113 luxury rooms.
Designed by architectural firm Arquitectonica, 8850 Sunset incorporates many aspects of the new urbanism movement such as LEED standard design, native/drought tolerant landscaping, a green roof, and a ground level that encourages walking and gathering. The building's facade will be alight with the dynamic LED panels seen on the Pendry and other new developments.
Construction is set to begin next year, with a completion date in 2025.