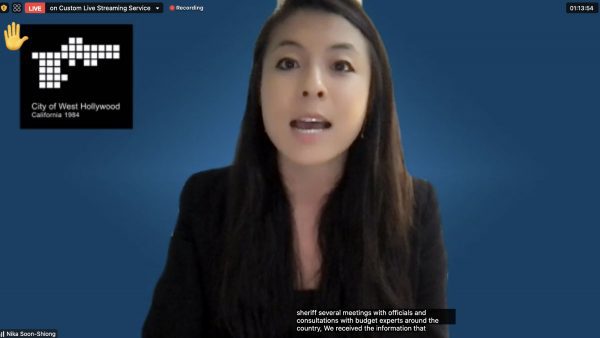 Public Safety Commissioner Nika Soon-Shiong defended her accusations against the LA Sheriff's Department during her comments Monday night:
I want to thank everyone who spoke today and emphasize that I care very much about safety.
I care very much about the prevention of harm. The LA Sheriff's Department's monopoly over public safety is not in service of all of our shared values.
Question: What are metrics of crime prevented by the sheriff's department in WeHo?
The Contract Law Enforcement Bureau in charge of the department that is overseeing this contract, said, and I quote, There is unfortunately no way to accurately measure.
So the data they will report later on in this meeting reflects just that.
Yet what we hear and what people experience is that crime is rising.
So despite the escalating costs, West Hollywood experiences relatively the same rate in frequency of violence crimes as it did in 2012. There were 320 reported violent crimes in 2012 and 2020, but less crime is being reported.
In fact, the Department of Justice claims that 40% of all crime is reported to law enforcement. Why?
Because folks feel unsafe reporting their crimes to law enforcement.
So to align public safety goals with the contract costs, West Hollywood should reconsider reallocating funds from the sheriff's department towards existing alternatives.
I want to urge those who care about rising crime and fiscal responsibility should agree with the same with the same point. I also want to emphasize that we are reallocating funds not in
arbitrary amount, but exactly the amount which represents 18% of the sheriff's department time in West Hollywood that they spend on mental health and homelessness.
It makes more sense to have trained service providers offer their services to do just that.
When I'm specifically told that this is too big of a hurdle or task, I say we already have places to fund the West Hollywood mobile interdisciplinary team services in total is 300
and $76,000 for 2021 fiscal year.
That's the equivalent of one sheriff's officer. And I want to request a clear breakdown of homeless services, mental health services being provided, and the cost of each staff.
We heard earlier today in public comment the average department of mental health worker makes $45,000.
Imagine the number of mental health workers we could have in the city with the equivalent of one officer's time.
I also want to emphasize that the sheriff's department is a countywide department with 20% of their time spent across cities.
If there is a violent crime and for folks decide to call the sheriff's department, they will come as we've been told that that is a part of their duties roaming the cities.
I also want to emphasize the topic of discussion from last week — the inability of the sheriff's department to give contracts, cities, agency, and controlling costs, particularly overtime costs.
Finally, after 30 pages of formal memos, 15 pages of correspondence addressed to me from the sheriff, several meetings with officials and consultations with budget experts around the country, we received the information that the average deputy salary is $125,000. The average deputy benefits are $102,000, and each contract city pays $70,000 per deputy overhead.
So to get these figures, these very basic figures for any contract required dozens of hours pouring through budget documents.
The process itself revealed contradictory unclear information directly from the highest paid department in LA County.
So imagine a vendor telling you that prices are increasing. Prices increased in total 18 points, 3% over the past decade, where the cost of a deputy literally increased by a 100% from $167,000 to around $300,000.
That's what they told me specifically in a letter addressed to me.
The top salaries are 423% higher than the average pay for county employees.
420% higher than the national average for government employees.
Why is it Ok to send inaccurate, incomplete information to the city?
Is it good governance for a city to enter into contract with no control of cost, increases with the vendor, who can unilaterally increase the price with no recourse?
And so I urge the sheriff's department to increase fiscal transparency to increase the number of their ability to answer very basic questions about unit costs. And I also want to emphasize that we all here in the Public Safety Commission are dedicated to enhancing public safety of this community. Yet, in fact, as I will discuss later, when the sheriff reports their crime data, we are choosing an instrument that is proven not to work, and that the department itself has declared does not work. We have the opportunity right now to set precedent for more investment in what we know works which is community-based mental health and homelessness services.