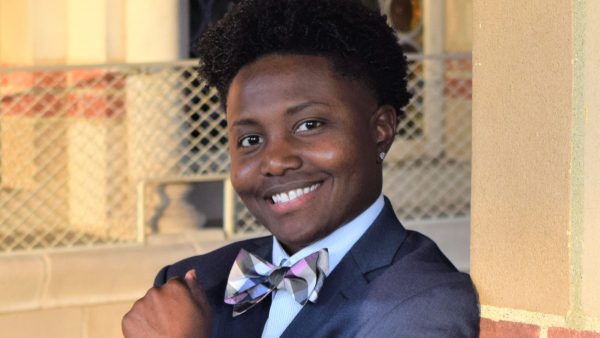 Attorney and rights activist Zekiah Wright has filed papers to run in the 2022 West Hollywood City Council election.
Wright, who uses they/them pronouns, joins a colorful field of incumbents, newcomers and former councilmembers vying for three seats on the council — the first being vacated by retiring Councilmember John D'Amico, the second being defended by Mayor Lauren Meister, and the third that Councilmember Lindsey Horvath would vacate if she wins her race to become the Third District Supervisor.
Wright declined to be interviewed for this article, but they posted the following statement on their LinkedIn page:
"I decided to run because I want to help usher in a brighter future in West Hollywood," they said." I believe in community-based leadership. I listened to complaints, needs, and suggestions from fellow community members, small business owners (and employees), and other stakeholders. I realized that I can offer fresh perspectives to current issues, including public safety, housing, and homelessness in Our City. I can contribute creative new ideas to the Council. 
"I embody representational leadership. As a Black, nonbinary, queer person, I represent residents, visitors, and other stakeholders that have not had a voice on City Council. I am different from other candidates because my campaign is centered on listening to all community voices. I believe in building on the great work that has already been done in Our City and thinking outside the box to address the dire issues facing our City. It will take all of us working together, but I believe we can usher in a brighter future for West Hollywood."
There are currently no Black members of WeHo's City Council. Wright told WEHOville in an interview last September that increasing representation was a central reason they volunteered for LGAB.
"I think I was really interested in seeing more people of color represented in the city, regarding businesses, on the boards and commissions, and just our interests being considered more. I know me and my friends, we would always come to West Hollywood but we didn't see a lot of us represented in ownership or even a lot of the patronage, depending on what bar you're at. So I was like, 'We're here, we're spending money, some folks live here, but I don't think there's a specific interest in keeping us here, OR meeting the needs that we have that are different from other other groups.'"
NOTE: The City of West Hollywood's City Clerk's office has not as of publication time qualified any candidates for the November 2022 municipal election. At this point in time, the City has received submissions of Fair Political Practices Commission (FPPC) Forms 410 and 501. The City Clerk's Office will begin scheduling appointments for nomination papers to be issued to interested candidates on July 5. The Nomination Period opens on July 18 and ends on August 12. The Nomination Period may be extended to August 17; please contact the City Clerk's office to confirm when the Nomination Period ends. Details are provided on the City's website at www.weho.org/elections.