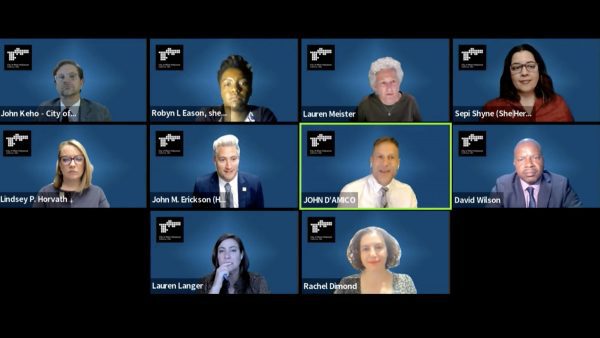 West Hollywood City Council this week voted to send the Housing Element and the Environment Impact Report back to staff for revisinos.
This comprehensive report, required by the state of California, must be updated every eight years and highlights the city's specific housing needs, availability, and affordability.
The Housing Element identifies three key areas that comprise the state of fair housing in West Hollywood, which include providing arrangements to reflect changing housing needs, addressing aging housing inventory, and preserving existing affordable housing. Commissioners, as well as staff emphasized the importance of strategic urban development.
Councilmember John D'Amico made the following motion:
"That motion would be to notify California Department of Housing and Community Development that our city is interested in maximizing the development of affordable and median income housing and we are respectfully asking for 12 months to change our policies and our land uses in accordance with that desire as a city.
2) that we look at the zoning across the city and we identify ways in which we can change the zoning to maximize the production of housing that is affordable and median income.
3) that we consider some of our long-standing large parcels and the actual viability of those being developed, and if they are actually not likely to be developed during this housing element period that we abandon the maximized use of those as housing sites
4) that we carefully look at our environmental document in the context of reallocating housing across the city versus bundling it in target sites and we consider the true environmental impact and whether there is an actual likelihood of a lawsuit given that this is a 1.9-square mile city and the numbers of housing units we're targeting are not increasing beyond what RHNA has requested."
The motion passed 4-1, with Councilmember Lindsey Horvath voting no.
Highlighted quotes from the meeting:
"I'm very much interested in creating opportunities for more affordable housing. We have an affordable housing crisis and whatever we can do to be more bold and shorten the time … I hear you all saying, 'We're going to do this in the next few years.' But our crisis is now. I have friends who have had to move out of the city because they cannot afford to live here, many many friends and neighbors, and that's not even touching on the homelessness issue." — Mayor Pro Tem Sepi Shyne
"I'm just going to say right now that I am not going to approve a project asking for the city's public benefit bonus unless one the majority of square footage is for residential and two a minimum of 62 percent of the residential square footage is for affordable housing with moderate and low income housing in proportion to what is being required for RHNA. We don't need more luxury housing in this city." — Mayor Lauren Meister
"At January's regular meeting of our commission staff presented the proposed housing element for our review. Proposed mitigation measure cul 2a required a tribal cultural resource assessment report for every project. Producing such a report involves performing a search of the sacred lands, filed with the Native American Heritage Commission for each and every housing project built. Staff however noted that there are no tribal sacred lands within the city and thus the requirement to produce such a report serves no purpose other than to delay any projects and to make them more costly" — Michael King, chairman of WeHo's Historic Preservation Commission
"I just want to make sure we're not in a situation where we have consultants recommending that consultants continue to be hired in order for us to be able to build housing in our community and clearly that is a concern of our Historic Preservation Commission enough to have their chair come speak about it tonight." — Councilmember Lindsey Horvath
"In many ways the reason why I'm excited about someone new sitting in this seat that I'm sitting in theoretically at the council chambers because they will have new ideas and they will push them and they will become reality, and in my mind the new idea is that this actually is a crowbar. This is a crowbar to cause our planning staff to do planning and to cause our development community to do development and to cause us to stretch ourselves." — Retiring Councilmember John D'Amico
CORRECTION: This article originally stated the Housing Element had been adopted. WEHOville strives for accuracy and appreciates your help in identifying errors of fact.