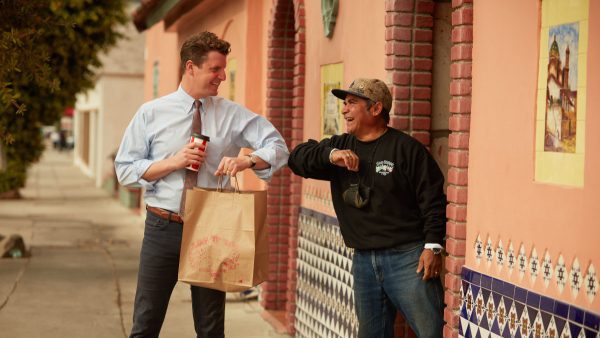 After doing my homework on the four candidates for LA County Supervisor for District 3, I have decided to officially endorse California Senator Henry Stern. Here's why…
Henry Stern is a policy guy. I prefer policy over politics.
Stern's first job as a lawyer was as junior staff counsel to U.S. Representative Henry Waxman, West Hollywood's former congressman, during his chairmanship of the House Energy & Commerce Committee. That committee was responsible for the Affordable Care Act (2010) and the American Recovery and Reinvestment Act of 2009. Having policy experience in both of these areas, at a high level, should be a prerequisite for any person running for LA County Supervisor.
Stern knows that three of the issues people are most concerned about in West Hollywood are homelessness, public safety, and housing affordability.
Like me, Stern thinks it is a false narrative to suggest that we can't have public safety officers and also have a compassionate response to those on the street with mental health issues, or that to achieve social justice, we need to defund the police. He understands that we need a multi-faceted approach to many of the challenges the County is currently facing. He believes in innovative training programs for our public safety personnel, not cuts that will impact community safety.
Stern has a plan to guarantee mental health and drug treatment services for people living on the streets, which he is currently working on in Sacramento.
He is also working on legislation focused on the conversion of unused public and commercial buildings for affordable housing. This is something I tried to get our current Supervisor to look at when we first formed the Homeless Initiatives Subcommittee.
Stern has worked on LGBTQ+ issues – upping funding for free STI testing with Planned Parenthood, protecting trans youth with Equality California, and helped get funding to make the LA LGBT Center more secure.
He's worked on protecting animals by building a wildfire corridor and keeping precious open space out of the hands of developers.
Stern has been recognized for his voting record by Planned Parenthood, the California Environmental Justice Alliance, Equality California, Smart Justice, and the California Labor Federation. He was also awarded Legislator of the Year by the Sierra Club and the Clean Money Campaign. All of these causes are important to me and our city.
As a fellow Jew, I'm impressed that Stern worked with Governor Newsom on establishing the Governor's Holocaust and Genocide Education Council for which Stern received the Humanitarian Award from the Museum of Tolerance.
I also appreciate that he brought his elderly father-in-law to live with his family. Like me, he understands the fun and the challenges of having a multigenerational household.
Lastly, I found it very promising that Henry Stern contacted me to ask me questions about West Hollywood, solicit my opinions, and listen to my responses. That is something none of the other candidates have done to date. He's accessible, relatable, and can go deep on a wide range of policy challenges that we're facing. You can follow him @HenrySternCA on Facebook, Instagram, and Twitter!