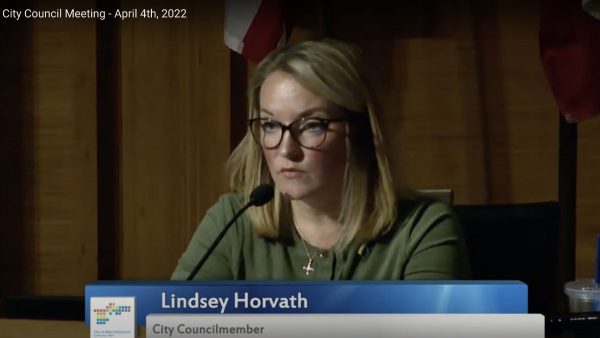 Councilmember Lindsey Horvath called out WeHo residents in opposition to slashing the Sheriff Department's budget for placing undue blame on her appointee to the Public Safety Commission, Nika Soon-Shiong, the commissioner who spearheaded the push to reduce the number of deputies that serve West Hollywood.
"We would not have had this conversation tonight were it not for a courageous commissioner who spoke up and spoke her mind," Horvath said. "And I find it disgusting the way that she has been vilified in local blogs and demonized for offering an alternative point of view. You can disagree with someone, you can very seriously disagree, but to say that she must not be able to speak English, to not utter her name, to put the decision of five commissioners — all of whom who are new commissioners, who have a new perspective on what public safety ought to look like in this city, clearly because they voted for something different. To put that responsibility solely on this on the shoulders of one commissioner is rooted in racism and othering of people and community who have a different point of view, and it's unacceptable. We all should be accountable for the ways that we have contributed to a very toxic discussion around this subject."
But it wasn't just Soon-Shiong who was the victim of an overly aggressive public backlash, Horvath said.
"I am concerned about the fact that this council was silenced," she said. "I am concerned that we are having a conversation that is the most important thing we can do. How can we keep each other safe in a way that is actually tearing us apart instead of bringing us together?"
While Horvath suggested the nearly six-hour meeting was a step in the right direction for improved public safety in WeHo, she took aim at several outstanding issues she has with the Sheriff's Department.
"I think there's a lot that we get from the Sheriff's Department for what we pay — but I also think there's a lot of trouble that comes with the Sheriff's Department, that we potentially welcome in while we have the Sheriff's Department in our community," she said.
"I hope that moving forward we will not deny the systemic problems of deputy gangs or have trouble saying things out loud because we're asked by the sheriff not to say them out loud. That we will continue to have a conversation that is rooted in seeking truth and having accountability. That's what this community has done well and it's why we've gotten to this point."