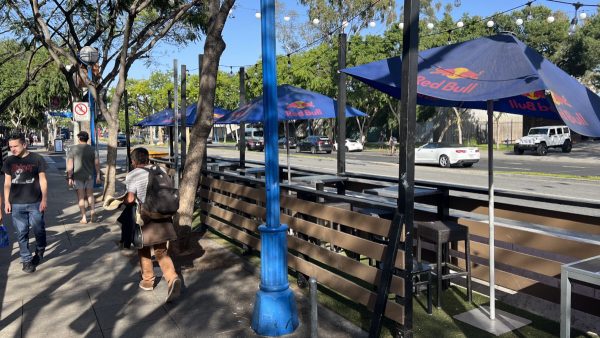 The Outzone in front of Micky's and BlockParty will be removed on May 16.
The streets are crowded. Business is back to pre-COVID all-time highs. New businesses have opened over the past two years. Bottega Louie, Stache, Gym Bar, and Heart have added to the crowds along Santa Monica Blvd. There are fewer cops on the beat and the EPT, the Entertainment Police Team, has not been restored to pre-COVID levels despite the crowds and the many new businesses that have opened.
Public safety hazards and the safety of the employees who work in West Hollywood should be our No. 1 goal. What use is a high minimum wage if you fear for your life when you leave work? My No. 1 concern and fear is for my staff who have to handle the drunk patrons, drugged patrons, homeless patrons, flamboyant patrons, and lots of customers. When you apply for a job at BlockParty you are required to have the Sheriff's and Block By Block numbers in your phone and memorized in your head, and you have to learn how to respond in emergency situations.
Two weeks ago after closing at 2 a.m., the crowds gathered for after-hours as usual. And as usual there were fights. But the crowds moved in closer due to the Outzones. Lines waiting for after-hours crunched to the front of my storefront doors. The staff could not get out of the store to go home. Fights happened in front of the door. There were no sheriff's deputies around.
It took a few days to learn of the events from my employee Jose Flores. Immediately I reached out to all five City Councilmembers, and IO cc'd Kristen Cook at Public Safety and both Tara and Paulo, who are in charge of the Outzones. Within 10 minutes Mayor Meister responded and looped in City Staff too. A short time afterward, Councilmember D'Amico responded, discussed, and took action. And a short time later Mayor Pro Tem Shyne got involved to make sure the issues were reviewed. There was no response from Councilmembers Erickson or Horvath. Horvath later explained that she did not reply but had looped in the City Manager.
It was time to open the street and let the crowds flow. Micky's agreed. We pulled our permit approvals and the Outzones will be removed. I've recommended the parking spaces be used for Uber/Lyft drop offs after 8pm, and a loading zone restored for deliveries and parking spaces during the day.
There are other Outzones that need to be examined for the hazards they create and present. I've been told from a number of disabled residents that the sidewalk in front of Stache forces people into the street and the crowds are so fierce in front of Bottega Louie on the weekends that patrons cannot flow east or west after they finish their meal. The crowds are here but yet we have not restored the Entertainment Police Team to Pre-COVID levels. It's important that your voice be heard. You can send your thoughts to the City Council at council@weho.org or write a letter or op-ed to us and publish it here. Send to brandon@wehoville.com, and cc: me, love to hear from you larry@wehoville.com.