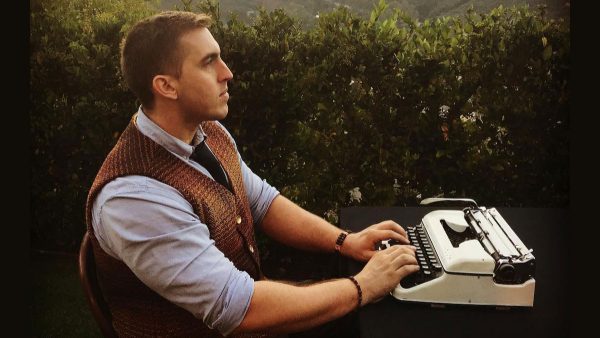 In celebration of National Poetry Month, WEHOville is publishing poems by local writers. 'WeHowl' is a collaborative poem created by West Hollywood City Poet Laureate Brian Sonia-Wallace using lines submitted by 56 residents and visitors about their favorite memories of West Hollywood in 2022.
I saw the fashionistas and gogo dancers of my generation emerge after being driven indoors by plague, their ravenous bread-making fulfilled,
dragging themselves past OnlyFans at dawn looking for their rent, buying standing desks, folding in their loneliness, bedheaded scenesters burning for each other on dog walks, through zooms, finally unmasked —
Who went to Micky's just days before the world shut down, broke the white picket fence with Britney Spears, nursed hangovers at the French Market,
Who became fast friends watching season 1 of the L-Word, walked into a now-defunct Lesbian bar, embraced their sexual orientation, who are still here, though The Standard is not
Who saw the sky and wandered through, in between sweaty skin and spilled well drinks that stuck their pineapple to the floor like lips that don't quite let go,
Who met a boy in a Jeep while driving down Santa Monica Boulevard,
Who greedily assented,
Who discovered rent control and were able to stay,
Who floated under the still starlight at the Hollywood Riviera,
Who had waayyy too much tequila on Halloween at Marix where the waiter was dressed like Liza Minnelli
Who walked before dusk, cars flying by on Santa Monica, dipping into Barney's for quick coffee and eggs
Who saw Iman and Bowie at the checkout line at Gelson's,
Who lived inside history,
Who roller skated down Crescent Heights just after Fountain, when everything just got so fast, who couldn't stop and rolled and flew all the way down where the street curves and crashed — who got cleaned up by the elderly Russian ladies who raced out of their stores to help.
Who can't share, this is a PG poem, who were too drunk to remember, who can't tell you 'cause they'd blush.
Hank! I am with you in West Hollywood where clear skies echo rhythm and harmony.
I'm with you in West Hollywood where you reignited the creativity you'd placed on the back burner.
I'm with you in West Hollywood where you showed up to Pride as Lady Godiva in 6-inch heels and a white cord dress with nothing underneath.
I'm with you in West Hollywood near where Aldous Huxley had a house on Kings Road; Andy Warhol showed his soup cans on La Cienega, and silent movie technicians filled the bungalows along what's now the Norma Triangle at the birth of film.
I am with you in West Hollywood & down the road after, in the back booth at Canter's waiting for our order while staring at the ceiling — 3 a.m.
I'm with you in West Hollywood where you get an accidental gig in a coffee shop, the kind of regular gig that lasts 10 years. O Rooftop Pool! O man with the Free Hugs sign! O Oscar party, O resplendent shades of yellows, golds, and white!
I'm with you in West Hollywood where the streets fill with dancing, where Koontz Hardware feels like home, where you sing off Laurel as you bring in oranges from your trees in the backyard.
I'm with you in West Hollywood in my dreams you wander Sunset from sunset to sunrise.