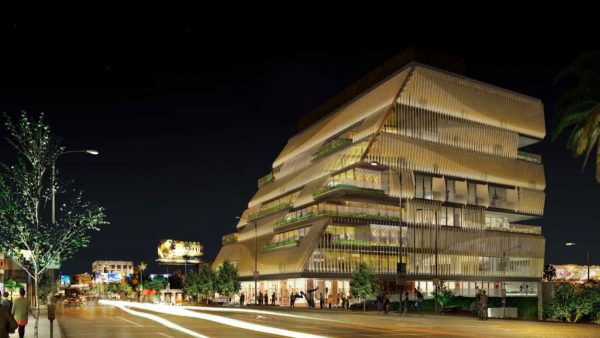 The Arts Club's first venue in the Americas is finally beginning to take shape.
The Planning Commission reviewed revisions this week to long-standing plans to bring the establishment to West Hollywood.
The original Arts Club in London, whose famous founders include Charles Dickens and Lord Leighton, is a storied institution dating back to the 19th century. The private members club was a mecca for Europe's literary and artistic power players such as Rudyard Kipling, Claude Monet and Auguste Rodin. Current members include Grayson Perry, the photographer Tom Hunter, the actresses Gwyneth Paltrow and Kim Cattrall and also Ronnie Wood.
The West Hollywood establishment will not be called the Arts Club, even though its majority owners are the same.
The Planning Commission originally approved the project at 8920 Sunset Boulevard, the site of the former Hustler Store, back in 2018. The nine-story building would contain the club, offices, ground-floor retail areas, an art gallery open to the public, and 351 parking spaces across 120,000 square feet of total space.
Gensler presented a revised proposal to the Planning Commission this week that reduced the parking to 279 spaces, swapped guest club rooms for an additional 14,000 square feet of office space, and removed the rooftop pool.
The Planning Commission addressed concerns with the reduction of the parking spaces in the drive aisles and staging areas before proceeding with staff's recommendation to move forward with the project in a 5-2 vote.