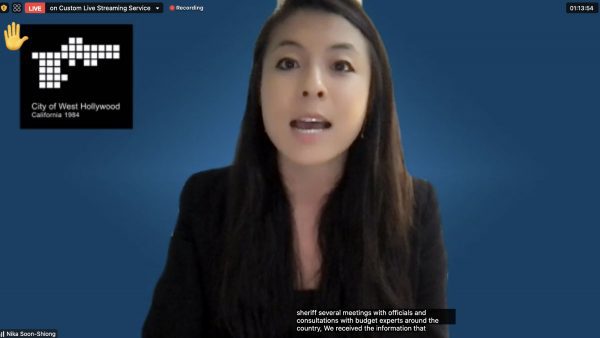 "To put that responsibility solely on the shoulders of one commissioner is rooted in racism,  sexism and othering of people in community who have a different point of view, and it's  unacceptable." — West Hollywood Councilmember Horvath during the Regular City Council  Meeting of Monday, April 4, 2022. 
My senior year at the University of North Carolina School of the Arts School of Filmmaking, I co-founded a LGBTQ film festival. Our guest artists included Tony Award-winners Terrence McNally and Joe Mantello. I even got New Line Cinema to donate a 25th anniversary print of Pink Flamingos for the show and our archives. It was a great success. When the Raleigh News and Observer asked Senator Jesse Helms about our film festival (which included a documentary about him) he refused to comment on what "those people" do. I think we all know what he meant by "those people." A sitting United States Senator called me a faggot. At best. And now a West Hollywood Councilmember has called me a racist.
I am against the proposal passed by the Public Safety Commission to cut ten deputies from our Sheriff's contract. This idea originated with Commissioner Nika Soon-Shiong and she is the driving force behind it. I am against it because it is a bad idea during a time of rising crime. That does not make me a racist, it makes me a realist. Sorry, not only a racist but apparently a misogynist who practices othering too.
West Hollywood is a special place where the LGBTQ community can be free and safe because it  was made for us. I grew up gay in rural America in the 80s and 90s so I know what it is like to  feel unsafe because of who you are while just walking down the street. My husband and I have  chosen to live in West Hollywood for 17 years largely because we know the value of the safety it  promises for us as gay men.
When my area of West Hollywood on the eastside started to become  unsafe, I started a neighborhood watch group for my street. Since then, things have gotten worse.  A few weeks ago, a man was stabbed in the chest on my block.
Within half a mile of me there  has been at least one murder, another stabbing, at least one rape, and more, within the last year or  so. Yet the supporters of Commissioner Soon-Shiong's proposal have flooded social media with  misrepresentations of the level of crime, and even outright denials that it has increased at all. 
At the city council meeting where Councilmember Horvath called me a racist misogynist guilty  of othering, she herself attempted to brush off the severity of the crime wave by saying that many  of the felony robberies are just cell phones being stolen and that this is only a felony now  because cell phones cost more than they did years ago.
See, it only appears that serious crime is  up because what the criminals are stealing from you costs more than it used to. Also, that term Follow Home Crimes "… suggest people are being followed to their homes. But in speaking  with the Sheriff's Department before this meeting, they indicated it's not that people are being  followed home, they're being followed when they leave an establishment. Wording matters."
This is what an ideological decision in search of reasoning looks like. Being followed by a  criminal in West Hollywood apparently doesn't matter unless they make it all the way home with  you. 
Safety is a LGBTQ right. Security is a LGBTQ right. If I'm beaten up in my community because I'm gay or because someone wants my wallet, it feels pretty much the same. Even if they do it on my way home and not at my home.
Using the Councilmember's logic should I accuse her of homophobia? After all, she is underplaying the level of danger to me in what is supposed to be a safe haven for queer people. And she is doing this to justify what is at best an ill-timed cut to the police who are here, in part, to keep us all safe. No. I don't believe she is a homophobe any more than I believe I am a racist or a misogynist.
But I am guilty of othering. Othering is a nifty neologism because it can mean so much that it can be effectively tossed around to fit many a situation of outrage.
John A Powell says that "Othering is not about liking of disliking someone. It is based on the  conscious or unconscious assumption that a certain identified group poses a threat to the  favoured group." I grew up poor. I've been hungry.
We didn't even have a car or a telephone for  years when I was a kid. In this case I, me, my family, my neighbors, are the "favoured group"  and Commissioner Soon-Shiong, as the daughter of a billionaire with sudden power in my city  government, and a fervent desire to implement changes in that government which I feel will  make my group less safe, is the "threat."  
I have good cause to be wary of the children of privilege in power. I always assume they are  given these positions not because of merit but because of the wealth into which they were born.  I've lived through W. I've lived through Trump.
If they had been born poor, or even middle  class, no one would have ever even heard of them. Despite the immense damage they have been  able to do once in power they do not have the ability to have attained their positions in the  world if it were not for the wealth and power given to them at birth.  
We do not need a WeHo Ivanka.
Actions matter. Are my "othering" assumptions about Commissioner Soon-Shiong wrong? So far, her actions tell me they are not. Let me make clear that while I find her proposal misguided, I do not see her as a threat. I am just quoting the definition of othering in using that word.
But I would like an apology from Councilmember Horvath.