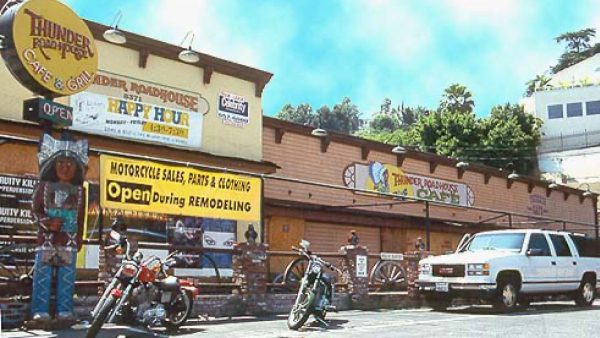 Have you ever had that favorite local bar just minutes away from home, a place where you didn't have to worry about drinking and driving because you could just walk home? For several years in the 1990s, Thunder Roadhouse was my favorite neighborhood restaurant/bar, the place where my friends and I met up before a night at the nearby House of Blues or another club on the Sunset Strip.
From 1994 until 1997, Thunder Roadhouse stood at 8363 Sunset Blvd., in the heart of the Strip. This biker-themed restaurant bar was bankrolled by "Easy Rider" actor Peter Fonda, LA-based country superstar Dwight Yoakam and managing partners Michael Eisenberg and Max Hushahn. The decor was dominated by a giant collectible autographed poster from the 1958 good ol' boy moonshining classic "Thunder Road," the inspiration for Burt Reynolds's "Smokey and the Bandit" movies and the TV series "The Dukes of Hazzard." The steely gaze of Robert Mitchum surveyed the celebrity-studded crowd of motorcycle lovers and fans of the establishment's laid-back ambiance.
The official opening of Thunder Roadhouse drew so many famous faces that even well-known names had to wait in line while rockers like the Red Hot Chili Peppers were ushered inside. A drive past the location would reveal a collection of shiny, expensive motorcycles parked outside anytime the bar was open, but the crowd was surprisingly well-behaved.
The establishment was billed as "America's First Motorcycle Theme Restaurant" and lived up to its billing by selling motorcycles and accessories as well as giving Hollywood bikers a place to hang out. Thunder Road Classic Motorcycles was located right next door to the restaurant and catered to biking aficionados including Bruce Springsteen, Axl Rose, and Harrison Ford. Given its prime location, it's no surprise that Thunder Roadhouse hosted numerous celeb-studded events like the December 1995 benefit for Tippi Hedren's Shambala Preserve attended by Hollywood types like Patrick Swayze, Antonio Banderas, Melanie Griffith, Donna Mills and Loni Anderson.
Entering the bar/restaurant from the glare of Sunset was a trip into a biker's fantasy with dimly-lit rooms filled with Western artifacts like a wooden Indian, covered wagon and Harley-Davidson memorabilia. The food was surprisingly good and the cold beer reasonably priced, for the Strip, anyway.
My own memories of Thunder Roadhouse involve heading out of my building and north to Sunset, sneaking through Hart Park and out the gates to the boulevard. From there it was just a quick run across the street and into the side entrance. Just inside the door was a large collection of merch including mostly-black tee shirts. If I had known the life of Thunder Roadhouse would be so short, I would have picked up more goodies. After meeting up and having a few drinks, maybe an early dinner, my friends and I would cross Sunset to the House of Blues, which had also opened in 1994.
Like most things in WeHo, Thunder Roadhouse was too good to last. In July of 1997, the bar was destroyed by an after-hours fire blamed on an electrical short. Soon the Saddle Ranch Chop House was erected on the site, a much more touristy business that features a mechanical bull and a huge circular bar. The motorcycle dealership reopened at the corner of Santa Monica and Poinsettia.
I did dine at Saddle Ranch one time to celebrate a friend's birthday, but the ambiance just wasn't the same. If I wanted to ride a mechanical bull, I would have done it back in the Urban Cowboy days when my bones were younger.