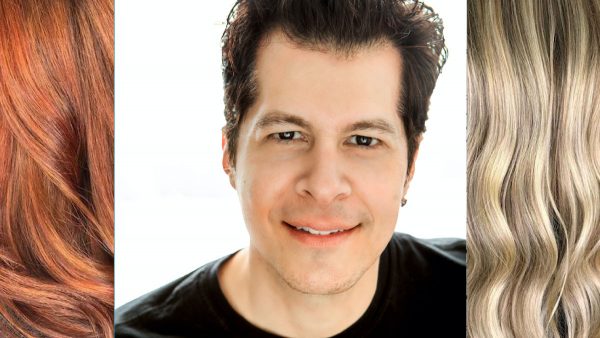 It's springtime, and many of you will like to wear a brighter color in your hair – even you guys out there may wish to go a bit lighter.
Often, for women, a lighter, golden or even a copper tone is a great choice to add into your color during spring. A color change such as adding red or lighter colors can sometimes fade more quickly than the regular color that has been done in the past.
Whether you're a redhead, blonde or brunette, if you are going even a bit lighter/golden/redder, you should always ask your stylist/colorist what they can do to prevent your hair from premature color fade. This may include leaving the color on a bit longer during your visit, or mixing up separate formulas for the base, mid-lengths, and ends.
Be sure to ask if they're doing a typical "pull through" color, or using a fresh color formula. Ask if the formula will be on the mid-lengths and ends, and for how long. Also, ask about adding a few highlights to freshen and brighten the hair for the spring.
Sometimes, all you need are a few natural-looking pieces of lighter color, placed strategically throughout your hair to brighten things up. You can do an off-scalp look to stay more natural, or you could do the "money piece": meaning, highlights close to your face, that are lighter and brighter than the rest of your tresses. Having a bit of lightness around your eyes and cheekbones creates a fresh, energetic vibe. You can go or subtle or bold with your money piece.
Then, you need to evaluate which haircare products you're using at home: make sure that your products are specifically formulated to repair and moisturize, as well as prevent your hair from color fade.
During spring, especially if you change your color, you need to prevent your hair from becoming dry, especially at the ends. The longer the hair is, the older the hair is, the more dimensions/levels of color/chemicals are on the hair: and longer hair doesn't have the benefit of hair oils produced at the scalp that keep the hair healthy and shiny. It is a matter of using really good restorative products, which is why I specifically designed the Marco Collagen Color Guard HairCare System.
The first and only complete collagen system exclusively developed for color and chemically treated hair, the Marco Collagen Color Guard HairCare System is specifically formulated to prevent premature color fade, and create the most positive, therapeutic environment for the hair and scalp. I just launched a new shopping experience at marcopelusi.com. Feel free to use the code MARCO2022 for a 20% discount – it's good through Monday, April 18th at midnight Pacific time!
These are a few tips for you all to consider for the spring season, and to maintain the quality and intergrity of your hair. Happy Spring!
Marco Pelusi,
Marco Pelusi Hair Studio, Inc.
636 N. Robertson Blvd.
West Hollywood, CA 90069
3109670999
marcopelusi.com
Join on Twitter (http://twitter.com/#!/marco_pelusi), Instagram (http://instagram.com/marcopelusi), and Facebook (https://www.facebook.com/marcopelusistudio)