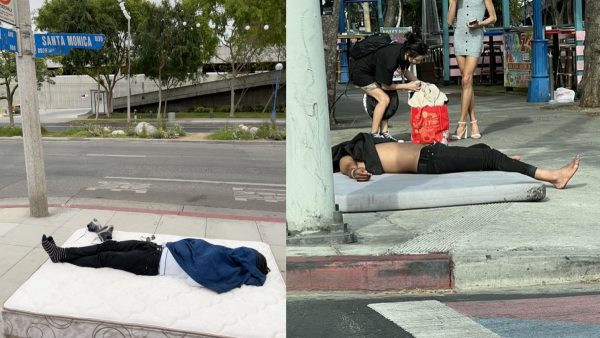 It's free, in a prime location, and there's no city tax.
If you live local to Santa Monica Blvd., then you must have noticed the newest 'bed' without breakfast. This past weekend WeHo hosted this guest on the corner of Hancock and Santa Monica in what appears to be a foam mattress.
One resident noted the man strumming his guitar while serenading passer's by.
Monday, what appears to be another guest checked in at the corner of Santa Monica Blvd and San Vicente with a new mattress which appears to be coil with a slight pillow top. The new location is just outside the newly painted Progress Flag on the northeast side of Santa Monica Blvd.
A local business owner reported the 'mattress and guest' was there for over a 2-3 day period with no interference.
The City of West Hollywood employs various social service organizations for outreach. The Sheriff also employs the MET team, (mental evaluation team) as well as contracts with Ascenia for homeless services. Neither of which appear to be working during peak weekend periods.