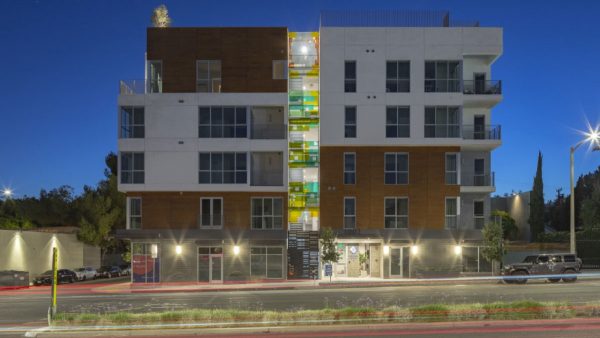 Judson Studios, the oldest family-run stained glass studio in America, has fabricated and installed an exciting new public artwork in the City of West Hollywood.
Designed by L.A.-born, Austin-based data artist Laurie Frick, FLOW: Fairfax Traffic Data bisects the façade of the elegant new 5-story Empire at Fairfax residences on Fairfax at Romaine, one block south of Santa Monica Blvd. The brightly colored kiln-fired glass art used by the artist to visualize traffic patterns in the busy neighborhood creates an iconic landmark within this vibrant Fairfax district, an integral part of the modern building designed by Levin-Morris Architects.
"For this massive project, I wanted an idea that will appeal not only to people who live in the building and see it up close but also to the random driver who passes by or the commuter who drives by that spot every day. A simple graphic pattern that people would be happy to see day after day," said Frick. "Growing up in Los Angeles, I know how essential traffic patterns are to life here. With this work, traffic data becomes something artful in a section of the city where traffic is not normally beloved."
Empire Property Group is excited about the completion of construction at Empire at Fairfax. "We always fall in love with the most recent projects that we've completed" says Founder and Managing Partner Craig Berberian. "And Empire at Fairfax is absolutely no different… but this one feels a little extra special. The artwork installation by Laurie Frick and fabrication by Judson Studios truly enhances the vibrant feeling of the property and the community."
Using the data from West Hollywood's Open Data portal, the artist-built bar charts tracking hourly, midnight to midnight, the number of northbound and southbound cars traveling Fairfax and Romaine. The highest traffic flow is represented in deep green, the lowest in red. Frick worked in yellow, lime, olive, green, and red glass to accurately represent this flow, using small squares of clear glass to map cumulative traffic over 24 hours of collected data. She flipped northbound and southbound charts on end, overlapping them to fit into the tall, narrow glass façade that covers the building's exterior stairwell bottom to top, creating colorful patterns visible from blocks away.
Frick worked with world-renowned glass masters at Judson Studios to bring her designs to life in custom-built kiln-formed glass, achieving effects that were not possible in traditional stained glass. By layering combinations of colored and clear glass cut to precise shapes, then heating them in a kiln to fuse the sheets together and laminated, the panels were prepared for their architectural setting. FLOW was crafted, built, and assembled at Judson Studios' state-of-the-art glass studio in South Pasadena.
"After 125 years of traditional stained glassmaking, and quite a few dynamic public art pieces, this is Judson Studios' first-ever foray into "data art" and the results are beautiful," said fifth generation Judson Studios president David Judson. "We are excited to showcase a large-scale example of the versatility of glasswork and the possibilities of fused glass in such an exciting part of Los Angeles.
This project, part of the City of West Hollywood's Urban Art Program, also referred to as the Percent for Art Program, is the City's permanent public art program. It was initiated in 1987 under the Economic Development Department overseen by Rebecca Ehemann, Manager and Public Art Coordinator. Beverly Denenberg served as the Public Art Consultant on this project.
Installed on Wednesday, March 30, 2022, FLOW is now viewable to the public.
#
About the Artist
Laurie Frick uses data to examine what we can know about ourselves. In her large installations, drawings, and small works she experiments with our perception and consumption of the massive amounts of data increasingly capturing information about our behavior. Evidence of her engineering background and long-history in high-tech are seen in the deep analysis she performs. Her engagement with the future of data was recently featured on NPR's 'All Things Considered," and in Atlantic and Wired magazines. She has been invited to talk at Google, SXSW, Stanford and TEDx, and has been the recipient of numerous residencies and awards, including Samsung Research, Yaddo, Bemis and Facebook. She holds an MFA from the New York Studio School, and an MBA from University of Southern California. She studied at NYU's ITP program where she melded art and technology into her current data work. Recent installations include public art in downtown Austin, CapitalOne, Facebook and Texas A&M. She has exhibited at numerous galleries in Los Angeles, New York and Texas, with an upcoming 2022 show at the Science Museum in Oklahoma City.
About Judson Studios
In 1897, Judson Studios was established in Los Angeles by the painter/art professor William Lees Judson and his three sons. Helmed by Walter Horace Judson, the eldest son, a stained-glass expert, the Studios thrived from the start beautifying the booming metropolis with works that represented the best in traditional and modern design. Today, Judson is the oldest family-run-stained glass studio in America, still proudly offering an exquisite, handcrafted product made by local artisans, and continuing to serve the community that has sustained us through the decades. For more information, please visit judsonstudios.com.