As work proceeds on the Supreme store replacing the former Tower Records, anecdotal reports of disruptive, and in some cases, allegedly unlawful construction continue to spread among residents in the area. Supreme recently mailed the following letter to residents in the neighborhood in attempt to address their growing concerns:
Dear Neighbors,
We hope this letter finds you well.
We wanted to reach out in response to questions we have received about the construction and the planned future retail operations for the new Supreme Store at 8801 Sunset Boulevard, the former Tower Records property.
As you may be aware, the building is currently undergoing extensive remodeling. While the total area and square footage of the structure will remain the same, the remodel will bring it up to current structural and environmental standards, as required by the City of West Hollywood's Municipal Code. When completed, the exterior facade of the building will look basically the same as before with the following notable changes the building will be white; some of the Sunset Blvd windows will be relocated; a portion of the middle roof section of the building will be raised about four feet, and skylights will be added.
Construction began on February 14, 2022 and is expected to last between six and seven months based on our current projections.
In regards to store operations, we want you to know that we are committed to creating a positive, stress-free experience for our customers and neighbors. This starts with ensuring that all customer queuing will occur on the property and will not spill onto adjacent sidewalks or other public property. Customers will not be allowed to line up along the public sidewalks or right of way at any time, day or night.
Customers will be assisted entering and exiting the store by our experienced staff. When necessary, for example during special promotional periods, lines will required to form along the side of the building, on our property, adjacent to the parking lot. Similar to an Apple Store experience, we also use an app-based system to reserve a time slot for entry to reduce the number of people in the store at any given time.
The store's typical hours of operation will be Monday through Saturday from 11:00AM until 7:00PM, and Sunday from 12:00PM until 6:00PM. No individuals will be permitted to line up outside the store overnight.
All our locations maintain licensed, experienced security·staff onsite during operating hours, each and every day. They are among the first to arrive and the last to leave to ensure the safety and well-being of our customers, staff and neighbors.
Since reorganizing our customer experience and management strategies a few years ago, we have established a strong track-record of maintaining a safe environment for our customers in the adjacent neighborhoods. Our Fairfax store has never experienced any robberies or armed altercations, contrary to some inaccurate reports about that location. We work closely with local law enforcement in the same manner that all retail businesses do. We do our utmost to ensure that our stores contribute positively to local communities and do not create unwanted circumstances.

We have been asked whether we allow skateboarding in our stores. The answer is no, we do not all~w our customers to skateboard in our stores or in our parking lots. Additionally, there are no occupiable ,spaces on the rooftop of the building and there are no proposed rooftop uses at the site.
Special events are not regular occurrences at our existing locations. Although we cannot not rule out the possibility of the occasional event; any such event would fully comply with the City of West Hollywood's requirements and rules for special events.
We are very excited about our new location in the City of West Hollywood. As the opening date of the store nears, we will reach out to our neighbors to hold a regular community meeting to discuss and answer questions on store operations (COVID permitting), in person before we open our doors and welcome the community.
If you have questions for us, please do not hesitate to reach out to us by contacting Brandon Zavala at brandon@Afriat.com or 818.450.2777
Sincerely,
Supreme store
8801 Sunset Boulevard Team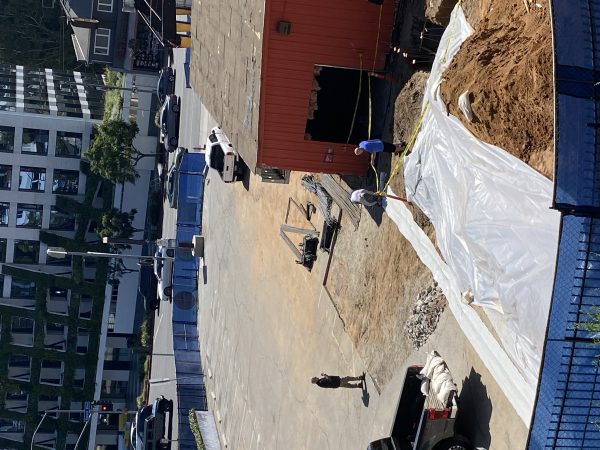 This image from March 27 purports to show construction on the Supreme store taking place on a Sunday, an apparent violation of city law.