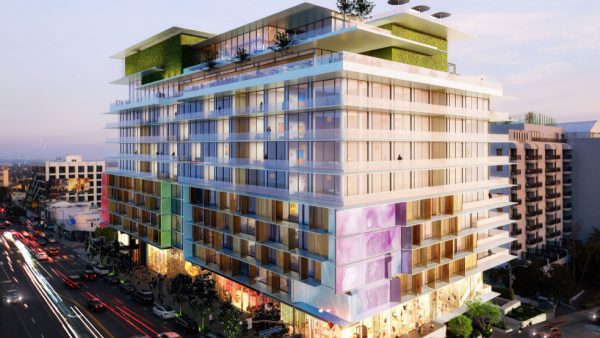 For those of you who have been following the Viper Room/8850 Sunset, the main news is that the developers have brought on a new architectural firm, the building has been redesigned, it has been reduced by three stories and is now proposed to be 12 stories high.
However all the proposed uses in the property are basically the same, just now in an even smaller space. They have only reduced the hotel rooms by three, the condos by seven. They have added another restaurant to the street level for a total of five restaurants in the project ( one rooftop, four street-level). There is still a large conference room / banquet hall. There will still be a club called the Viper Room. We don't know how many parking spaces they have removed but we assume they have.
There is to be a Design Review Committee Hearing on Thursday, April 28th which you are welcome to attend. Details below.
Please feel free to forward this information to others that you may think would benefit from participating in this meeting.
YOU MAY PARTICIPATE AND VIEW THE MEETING VIA THE ZOOM PLATFORM:
When you enter the meeting, please make sure to turn off your video and mute your audio.
Design Review Subcommittee Zoom Link – April 28, 2022 at 6:00 p.m.
If you wish to make a public comment, please use the 'raised hand' feature in the Zoom application. You will be called at the appropriate time. Please turn on your video and audio to make your public comment.
IF YOU DO NOT HAVE ACCESS TO A COMPUTER, YOU MAY PARTICIPATE BY PROVIDING PUBLIC COMMENT BY TELEPHONE:
This option is to provide public comment via phone ONLY.
You are strongly encouraged to E-Mail dgillig@weho.org in advance of the Design Review Subcommittee meeting, to be added to the Public Speaker List for the meeting.
In the E-Mail please include your name, the phone number from which you will be calling, and which item you would like to speak on.
Dial-in 10 minutes prior to the start of the meeting (the meeting begins at 6:00 p.m.)
Dial in Codes: *6 = unmute. *9 = lets the host know you want to speak on the current item
Dial-in: (669) 900-6833
Meeting I.D.: 811 4719 7757 #
YOUR PHONE WILL BE MUTED UNTIL YOU ARE CALLED TO SPEAK. Comments from the public are limited to 3 minutes per speaker.
IF YOU'D LIKE TO PROVIDE A WRITTEN COMMENT:
To better facilitate the remote meeting, members of the public who wish to comment on matters before the Design Review Subcommittee are strongly encouraged to submit an E-Mail with their comments to dgillig@weho.org no later than 4:00 p.m. on the Design Review Subcommittee meeting day.
Note: E-Mails received by 4:00 p.m. will be forwarded to the Design Review Subcommittee members and posted on the City's website as part of the official meeting record.
E-mail correspondence with the City of West Hollywood (including any attachment) is a public record under the California Public Records Act, which may be subject to public disclosure under the Act.