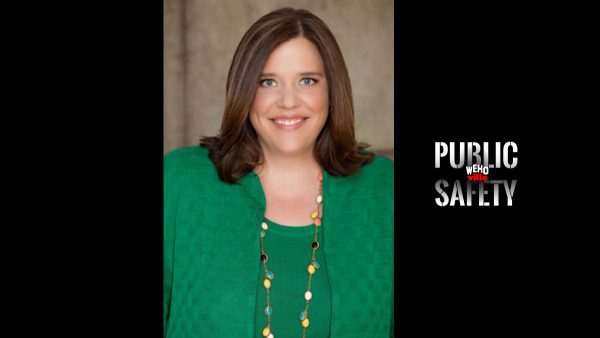 After more than 20 years working for the City of West Hollywood, Public Safety Director Kristin Cook has resigned, the mayor confirmed Friday.
"I'm about to embark on a new adventure and completely shift gears," Cook said in a statement. "I'm stepping away from public safety and exploring opportunities closer to home. My son only has three more years left before he goes to college, and the pandemic made me realize that life is precious and goes by fast. I remember him as a toddler holding onto Sal Guarriello's leg so tightly for sanctuary as Jeanne Dobrin tried unsuccessfully to pick him up. Fast forward 15 years, and I don't want to miss another moment."
Mayor Lauren Meister said Cook was looking to spend more time with her family, especially her only son. Cook reportedly emailed some in City Hall to give them the news herself.
The challenges of managing public safety in WeHo have metastasized over the past year, with crime on the rise and politics spilling over.
The mayor wrote in her goodbye letter to Cook:
Kristin,
Wishing you only the best.
Thank you for your dedication, hard work, loyalty, and patience. I'm glad that I had the opportunity to work with you, not only as a council member, but as a neighborhood watch captain, community leader, and public safety commissioner.
What an awesome responsibility — trying to keep people who live, work, and play in Weho, safe. You dedicated yourself to this city, you've always given it your all for as long as I've known you.
Enjoy the next phase! 
Cook's weho.org biography
West Hollywood's Public Safety Director Kristin Cook provides oversight of the Public Safety Department, manages the 20 million dollar law enforcement contract with the Los Angeles County Sheriff's Department, and serves as the liaison to the Los Angeles County Fire Department. The Public Safety Department fosters a community policing approach and coordinates targeted community programs to reduce crime and increase public safety and neighborhood livability for citizens, businesses, and visitors to West Hollywood. The Public Safety Department is responsible for emergency management and disaster preparedness for the City of West Hollywood and also coordinates law enforcement, fire, and EMS personnel for all major special events utilizing a unified command approach. Kristin graduated from Northwestern University in 1994 and received a Master of Public Health (MPH) with a focus on emergency management from the University of California, Los Angeles in 2000. Kristin has been with the City of West Hollywood since 1999, previously serving as the Emergency Management Coordinator and then the Public Safety Manager. Prior to joining the City, Kristin worked for the Children's Memorial Medical Center in Chicago, IL and the University of California, Los Angeles. Her professional memberships include the International Association of Emergency Managers and the California Emergency Services Association.