The West Hollywood City Council election is six months away on November 8th, 2022. In this year's City Council election six candidates have already declared. Those candidates are Mayor Lauren Meister, Former City Council member John Heilman, along with Marquita Thomas, Chelsea Byers Zekiah Wright and Robert Oliver.
This years field of candidates and supporters await the results of the June primary in which Council member Lindsey Horvath is seeking a seat on the Los Angeles County Board of Supervisors. Horvath is considered a top tier candidate against State Senator Bob Hertzberg and State Senator Henry Stern. The top two candidates will compete on the November ballot to replace Sheila Kuehl representing the 3rd district. Horvath has lined up Kuehl's endorsement as well as Los Angeles Mayor Eric Garcetti. Horvath also has the endorsement of Planned Parenthood. With the recent release of the Supreme Court draft decision and the potential to overturn Roe v Wade, Horvath has the momentum.If Horvath is successful she will not be eligible to run on the ballot in the West Hollywood City Council election.
If Council member Horvath is makes the runoff in November there will be a second open seat in this year's West Hollywood City Council election. A number of candidates are awaiting the results of the June race before stepping into the race. Martin says his decision does not depend on whether Lindsey makes the runoff.
Former Councilmember Steve Martin was first elected to the West Hollywood City Council in 1994. In that first race Martin placed 1st with 2175 votes, former Councilmember John Heilman finished second with 2041 votes and the late Sal Guariello finished third with 1809 votes.
Martin was re-elected in 1999 but this time finishing 2nd with 2434 votes. Heilman finished first with 2752 votes and Guariello third with 1645 votes. Former Public Safety Commissioner Ruth Williams finished fourth with 1590 votes.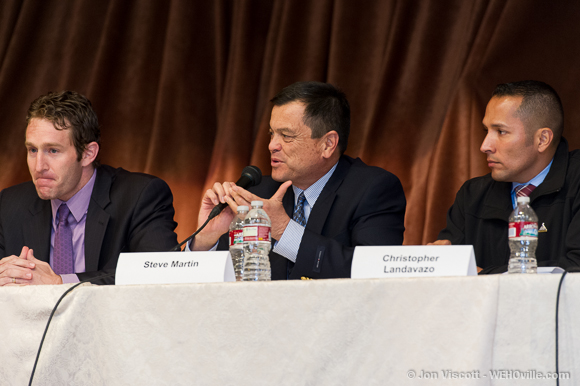 In 2003 Martin ran for re-election and lost. In that year Former Council member Abbe Land came in first with 3224 votes followed by John Heilman with 3171 votes and Sal Guariello with 2195 votes. The incumbent, Steve Martin came in fourth with 1852 votes. Mayor Lauren Meister lost her 1st bid for City Council in that year. Meister finished fifth with 1364 votes.
In 2007 Martin attempted a comeback. In that year Land finished first with 2634 votes. Heilman was second with 2532 votes, and Guariello finished third with 2200 votes. Martin was defeated with 1867 votes and convicted felon Ed Buck finished firth with 1373 votes.
In 2011 Martin ran again. In that year John D'Amico ran against the status quo and finished first with 2876 votes. Former Councilmember Abbe Land finished second with 2834 votes and John Heilman finished third with 2626 votes. Martin was fourth with 2320 votes and Councilmember Lindsey Horvath finished fifth with 2124 votes.
In 2017 Steve attempted a third comeback. In that year he ran in the two seat race against former Council members Heilman and Duran. In that race Heilman finished first with 3343 votes and Duran second with 2828 votes. Martin was third with 2205 votes followed by first time candidate Cynthia Blatt with 2200 votes.
Steve continued to stay engaged in West Hollywood throughout the years speaking on issues from the public comment podium and at the various Commission meetings.
WEHOville reached out to Martin to confirm his plans. Martin replied:
"I have been hearing a lot from people about what they are looking for in a city councilmember. Two years ago voters rejected the status quo and elected fresh faces. Now the public seems frustrated with the direction of the city but they want a more familiar direction without going back to the past. " (apparently referring to the candidacy of former City Council member John Heilman)
"Public Safety is the people's number one concern but the city council is clearly toying with the de-funding the sheriff, which is in line with the woke agenda they have been pushing the last six months. We have spent more time talking about banners, bathrooms, and pronouns than zthe issues that impact West Hollywood residents."
"Voters are still looking for leadership but they also want a council that listens and serves with a bit more humility then we have seen in the past. People who get elected should be grateful for the opportunity to serve."
"Obviously I have been around for a long time and know the view from both the inside and outside City Hall, but I have never seen the city in this much turmoil or such a chasm between the City Council and its residents. I am very cognizant that this election finds our city at the crossroads and this election may determine if the city government is run as a partnership with the people or if it simply becomes a convenient planform for councilmembers' ambitions."
"But running for City Council is daunting when developers are heavily investing in candidates who will do their bidding and in an era where practical progressives who embrace common sense and fiscal responsibility are no longer in fashion."
In the past Martin has been a supporter of the UNITE HERE Local 11 and is expected to seek their support.