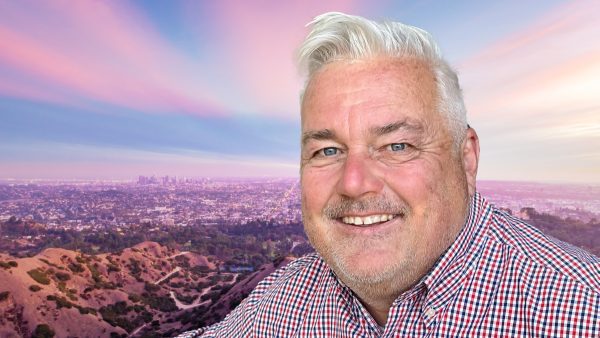 Craig Brill bucks expectations with a fresh mix of moderate sensibilities and progressive values.
WEHOville presents this exclusive interview with the dark horse of the race.
Introduce yourself.
I am an activist and community organizer who is deeply passionate about effecting positive change in our communities. My priority is to ensure public safety by addressing and correcting the homelessness crisis. I hope to one day become an elected representative who tirelessly works to keep our streets safe and solves the issues of the day with the commitment and vigor necessary to succeed.
Tell us about your journey.
I am originally from Whittier, California. We grew up poor and for a time my mom was on welfare with 3 kids as a single mom, she gracefully handled the difficulties that poverty brings, I have three brothers and a sister, and our struggles definitely brought us closer together as a family.
Now I live with my loving husband, who is both my business partner and life partner. Todd and I are small business owners, and we have lived in a home together for 26 years in the Beverly Grove neighborhood. We love the outdoors and live with our two chocolate Labradors and beautiful Rhodesian Ridgeback.
Like all of my family members, my husband is compassionate and cares deeply about our community. Both my husband and I are strong advocates of LGBTQ rights, and we will continue to support these efforts.
How has your past prepared you for the role of County Supervisor?
My past has certainly prepared me for the challenges that lie ahead if elected to serve in the role of County Supervisor. My life experiences have molded me into the caring person I am today.
I know firsthand what it feels like to be poor and watch your mother struggle to keep food on the table while and a roof over our heads. I have grown up in abusive households and watched my mother try her hardest to protect us. I have family members who have struggled with addiction, and as a result I understand the human experience. I know firsthand what the reality for millions of Americans feels like.
Unlike the other candidates, I can relate to individuals facing homelessness in Los Angeles. My unique understanding has sparked a sense of urgency within me, and I promise to work hard to provide shelter, transitional housing and accompanying services effectively and immediately for all of those experiencing homelessness. This will in turn make our streets safer.
Where do you fall on the political spectrum?
I would describe myself as moderate. I am constantly in flux. I care about collaborating with creative individuals and coming up with great ideas. I care much less about where the ideas are coming from – than whether they will effect positive change.
I believe in funding programs aimed at crime prevention. I will work to end violence on our streets because it has become a serious problem. Over the last two years, homicide arrests in LA County have increased 47%. I will address this issue directly by focusing on crime prevention programs.
What would be your No. 1 priority if elected? What is L.A. County's most urgent problem?
My number one priority is to ensure public safety. I intend to make our streets safer by correcting the homelessness crisis. There have been over 400 homicide arrests in LA County in the last year alone. Twenty percent of people experiencing homelessness in the United States live with a severe mental health condition.
Those with mental illness are more prone to commit acts of violence, as is evidenced by the fact that seventy percent of youth in the juvenile justice system have been diagnosed with a mental illness.
This is a complex and multifaceted issue, which requires immediate attention and decisive action.
Does the county need more sheriff's deputies?
I will fully fund the LASD and get officers back on the streets. Currently, LASD has .09 officers per 100K citizens, while the state average is 2.5 officers per 100K citizens. By not funding our deputies, the current Board of Supervisors are putting our lives on the line and over working deputies. This results in poor decisions being made due to exhaustion and stress.
How do you view Sheriff Alex Villanueva?
Initially, Villanueva had my support; however, the recent mention of corruption is giving me pause. Until I know more facts, I am backing off in terms of supporting him. I believe in discovering the truth before speaking out about an issue.
One positive thing I can say is that I support his strong emphasis on public safety.
How should the county approach a potential resurgence of COVID?
We must act deliberately and decisively if our county is faced with a resurgence of COVID. We need to ensure that hospitals in our community have ample resources and sufficient staffing to meet the demands of COVID.
We cannot have our nurses working in understaffed conditions, because this poses a direct and immediate risk to public health. Additionally, we need to ensure there are sufficient medical supplies and staff, because we never want our hospitals rationing medical equipment and medical interventions.
Finally, I will work to ensure that medical resources are distributed fairly to all individuals in the midst of a resurgence.
How would you tackle homelessness?
I intend to fight homelessness with accountability and compassion. I will put real-time data into action for each and every homeless person living in LA county. I will see that transitional housing and accompanying services are put into place effectively and immediately.
We need a relationship-building team to cultivate strong connections with the members of our homeless community.
Sustained positive relationships and trust will allow this team to successfully secure mental health care services, shelter and housing for these individuals. As a result, our streets will be safer. Additionally, this team will assist with paperwork, which is often unduly burdensome for those seeking housing assistance.
My goal is to assist people before they are faced with homelessness. We should have a 24 hour hotline, dedicated to helping individuals secure emergency housing. Additionally, we should assign each individual to a caseworker, who is committed to preventing eviction.
Currently, LA County spends approximately $50k on each homeless person, without even housing them. Considering the high cost once someone becomes homeless, I propose that we contribute to each individual in order to prevent them from becoming homeless.
What are some challenges that will face the county in the future that haven't been widely identified?
The mental health crisis is something that I believe deserves more focus in the future. The pandemic has devastated millions, and left a large portion of our community with few resources. During these unprecedented times, the rates of mental illness have skyrocketed as many struggle to pick up the pieces.
Today, 44 million Americans live with a mental illness, and Los Angeles is one of the cities most affected by mental health issues. In fact, 30 percent of residents in Los Angeles report experiencing depression. Right now, the system is failing the mentally ill and many others. Mental illness is not an isolated issue, it is an issue that deeply affects us all.
Currently, there are not enough hospital beds for severely mentally ill patients. I want to put a system in place that ensures homeless individuals will no longer be able to refuse mental health care when they pose a risk to the safety of the surrounding community. I want the people of Los Angeles to have access to quality mental health care before irreparable damage is done.
I will work to ensure we all have the mental health care we deserve in order to protect our family members suffering from mental illness, tents will no longer be the inhumane treatment that we have allowed for to long.
What would you say to a WeHo voter when trying to convince them to vote for you over their councilmember, Lindsey Horvath?
In my mind, there is nothing more critical than ensuring a safer community for everyone. While Lindsey Horvath was in office, crime increased significantly. West Hollywood is one of the most dangerous cities in the country, and according to the Los Angeles Sheriff's Department, crime in West Hollywood has risen 137% in one year. It is evident that Ms. Horvath does not view keeping our streets safe as a priority. On the other hand, I view public safety as a pressing issue, and as such I will handle it with the urgency required.