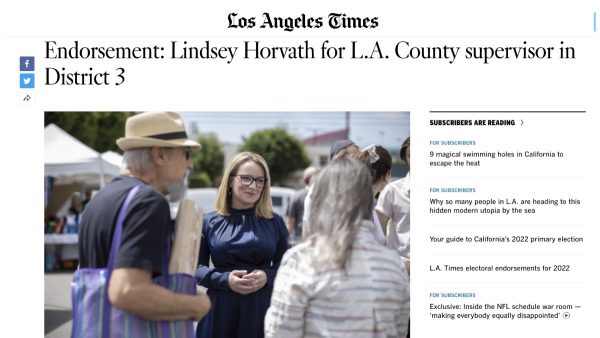 Despite her cozy relationship with the newspaper owner's daughter — Nika Soon-Shiong — Horvath sees no conflict of interest
The Los Angeles Times' editorial board has endorsed WeHo Councilmember Lindsey Horvath in the race to become one of the most powerful elected officials in L.A. County.
The Times said Horvath's election to the five-member Board of Supervisors would give it "a jolt of youthful energy and accelerate its sense of urgency."
The newspaper described her as being on the "cutting edge in demanding law enforcement accountability, deep coordination among municipalities, thinking through unarmed responses to people experiencing mental health breakdowns or other crises, and getting services to people living on the street," mirroring her campaign claim that she got 80 percent of homeless people in WeHo into housing and supportive care.
The Los Angeles Times is owned by billionaire mogul Patrick Soon-Shiong. His daughter, Nika Soon-Shiong, is a friend and political ally of Horvath's. The two met through the Mayors for Guaranteed Income program, and last year Horvath appointed Soon-Shiong to the influential Public Safety Commission. Together they've advocated for several controversial policies that have come before City Council, including the proposal to slash the sheriff's budget and reduce the number of deputies patrolling West Hollywood. That proposal elicited a fierce public backlash, with much of the ire directed toward Soon-Shiong. Horvath defended Soon-Shiong on more than one occasion, even claiming the public's criticism was "rooted in racism."
"We would not have had this conversation tonight were it not for a courageous commissioner who spoke up and spoke her mind," Horvath said in early April during discussion of the sheriff's reduced budget. "And I find it disgusting the way that she has been vilified in local blogs and demonized for offering an alternative point of view."
Many WEHOville readers wondered whether Horvath believed that receiving or even seeking the endorsement of the Los Angeles Times would be unethical, or at the very least give the appearance of a conflict of interest.
"I don't," she told WEHOville in an exclusive interview last week. "Nika isn't part of the editorial board. She's not a staff member of the L.A. Times so I'm going to leave that to them to decide whether they believe it is a conflict of interest."
But investigative journalists tell a different story.
"She's not on the masthead, but Nika Soon-Shiong has become a regular voice in the Los Angeles Times' newsroom" wrote the Daily Beast.
The social justice-crusading daughter of the publisher of the LA Times may have an outsized influence at the paper. wrote LA Mag.
Far from being a distant figure, Soon-Shiong has in fact emerged as a leading voice at the Times, advising her father on the direction of the paper and gaining clout and influence in the newsroom for her progressive viewpoints and her rapport with the editorial staff. She was instrumental in preventing the word "looting" from being used by L.A. Times writers in stories about the George Floyd protests of 2020.
Whether the Times' endorsement has any bearing on the vote totals of next month's primary remains to be seen. Absentee and early voting ballots began dropping this week. Election Day is June 7, and because there are so many candidates running, a runoff election in November likely will be necessary.
If Horvath succeeds in making the runoff and then emerges victorious, she will relinquish her seat on City Council and take office as the next District 3 Supervisor next year.
If she does not make the runoff, she will likely shift her campaign mode, jumping back into the re-election race for City Council.
If she makes the runoff but does not win, she will be forced to relinquish her seat on City Council and will not be able to run for re-election.

Loading ...