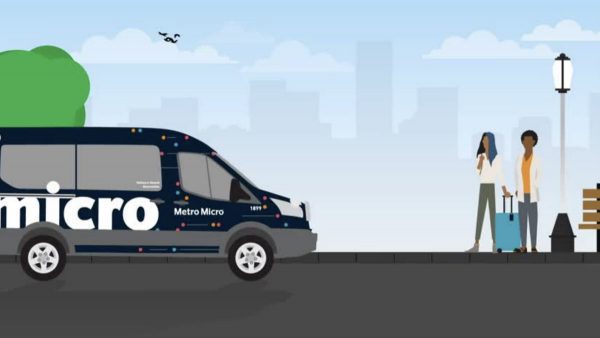 The Human Services Commission will review a new program that could expand the city's on-demand transportation options for seniors and other WeHo residents.
At tonight's meeting, City staff will introduce the commission to MicroTransit, described as a shared, on-demand, dynamic transportation model designed to supplement traditional fixed-route bus and train services.
The service operates via smartphones, and "fits somewhere between individual private transportation (e.g., Uber, Lyft, taxicabs) and public transit," according to the staff report.
"The software uses live, on-the-ground information to add people traveling in the same direction into the same
vehicle, allowing passengers to be picked up and dropped off in a continuous stream that translates into a ride system that's highly efficient and environmentally friendly. In addition to promoting operational efficiencies, MicroTransit software improves the rider experience compared to traditional demand response programs that require an advance reservation by phone. With MicroTransit, passengers can book a trip using a smartphone
application, web portal, or by calling the program's call center."
Currently, the city uses a service called Dial-A-Ride, a shared, curb-to-curb van program available to residents age 62 and older, plus those of any age living with a disability, which travels up to five miles away. Dial-A-Ride requires the trip to be booked up to four days in advance. Ridership has fallen from about 50 trips per day in 2016 to about 12 trips per day currently. The cost per trip is now $118, up from $61.62 just three years ago.
Adding MicroTransit to WeHo services would open up the transportation program to the general public for a small fee, according to the proposal. "An older adult or community member living with a disability would continue to be picked up and dropped off at the exact address they provide as long as it is in the program's service area," says the staff report. "The general public would need to walk no more than a ¼ mile to be picked up at a nearby bus stop or intersection. Having corner-to-corner service for the public helps avoid unnecessary detours and makes the service much more efficient."
City Council will be presented with the proposal in June. If they are fans, WeHo could see a rollout in January 2023.