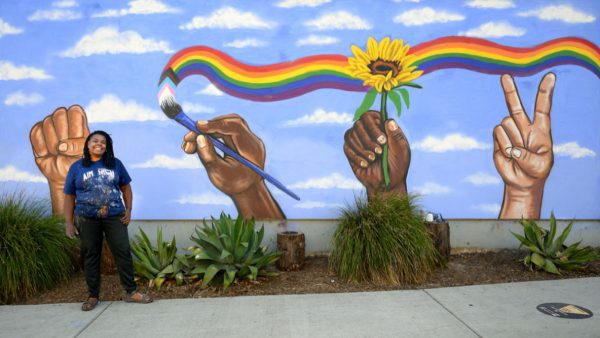 The City of West Hollywood is debuting a new mural at West Hollywood City Hall on its east-facing exterior wall facing N. Sweetzer Avenue. The mural celebrates LGBTQ Pride and is installed as part of the City's WeHo Pride LGBTQ Arts Festival. City Hall is located at 8300 Santa Monica Boulevard. The LGBTQ Arts Festival is part of the City of West Hollywood's annual Pride celebration.
'Our Pride' by artist LaToya D. Peoples features four hands to symbolize aspects of LGBTQ equality and activism. The first hand is in a rising fist shape, symbolizing the fight against oppression throughout history. Next, a painter's hand, symbolizing LGBTQ creativity and openness as a community. A hand holding a sunflower comes next, as a symbol for self-love and seeking light. And finally, a hand in a classic peace sign. The background color is a gradient bright blue sky, symbolic of the progress the LGBTQ community has made and will continue to make. Each hand is painted as a realistic representation of the diverse people of our communities.
LaToya D. Peoples is a BIPOC, queer, multidisciplinary artist, educator, and entrepreneur working in the realms of visual art, public/community arts, and design. Her work focuses on figuration, natural elements, color, and pattern, as a way of exploring identity and history. She carries these themes over to her mural and sculptural installation work, creating transformative pieces guided by youth and community engagement. Her commissioned works live in the collections of University Maryland Medical Center, Denver Urban Arts & Venues, Baltimore Office of Promotion and Arts, and Baltimore Department of Parks and Recreation.
Peoples has also worked as an educator and coordinator for visual arts programming in Pennsylvania and Maryland. She has served youth and adults through teaching partnerships with the Baltimore City Public School System, National Museum of Ceramic Art, Arts Everyday, Jubilee Arts Center, Enoch Pratt Free Library, and the McDonogh School.
'Our Pride' will be on display through Sunday, April 30, 2023 at West Hollywood City Hall, located at 8300 Santa Monica Boulevard.
The WeHo Pride LGBTQ Arts Festival runs over the course of 40 days from May 22 (Harvey Milk Day) through the end of Pride Month (June 30) in-person at various locations throughout West Hollywood, along with selected online programming. For full details about the Festival and for information about #WeHoPride weekend (June 3-5, 2022) events, please visit www.weho.org/pride.
For more information about the Our Pride mural, please contact Mike Che, Arts Coordinator, City of West Hollywood at (323) 848-6377 or mche@weho.org. For people who are Deaf or hard of hearing, please call TTY (323) 848-6496.