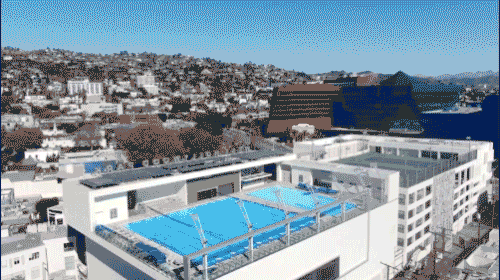 WeHo's Director of Facilities and Recreation Steve Campbell answered questions Monday night about why the opening of the playground and pool at West Hollywood Park continues to be delayed.
He said the building has received its Temporary Certificate of Occupancy, which allows staff to to set up offices, lifeguards to be trained and other preliminary steps to proceed. An official certificate is expected later this week or early next week.
"We will kind of start our phased opening, with access to limited access to the pools and limited access to the gymnasium,towards the end of the month or beginning of June," he said.
He described leaks in the swimming pools as "very common in an installation of this type, where it's a liner-based suspended pool. All of the leaks have been associated with penetrations, either for pipes or stair rails or those types of things. It's not structural in nature."
"Those have been uh chased down and repaired," he assured City Council.
And the deficient installations of the brand-new playground equipment are being addressed, he said.
"We've brought in a separate contractor under the guidance of the manufacturer to make all of those corrections and get everything kind of dialed into the way that it needs to be so that it's safe and usable for everyone for many years," he said.
Campbell turned down WEHOville's request for an interview to discuss these subjects weeks ago.