The Sunday event host committee included Michael Niemeyer and Adam Emarian, and Don Wise of Micky's. As well as Commissioner Alexander Bazley, Eastside residents Cathy Blaivas & Stephanie Harker, Former Planning Commissioner Sheila Lightfoot, James Litz & Neeley Roberts as well as Manny Rodriguez, Alan Strasburg and Bobby Trendy.
Meister's campaign event did not require a donation. All were welcome. Breakfast included eggs, bacon, fruit plates and a hosted bar. Debbie Meister, Lauren's sister was available for nametags or to accept donations.
State Senator Henry Stern left the campaign trail in his race for County Supervisor to join the event. Also in attendance were representatives from Senator Ben Allen's office, former City Council member John Duran, former City Council member Steve Martin, Commissioner Kimberly Copeland, Commissioner Christopher Bowen, Commissioner Richard Karliss, Commissioner Susan Isaccs, Board member John Allendorfer, as well as West Hollywood West Resident Association President Leslie Karliss. Council member John D'Amico was not present but has endorsed Meister for re-election. Notably absent was former Council member John Heilman. Meister attended the Heilman kickoff earlier last month.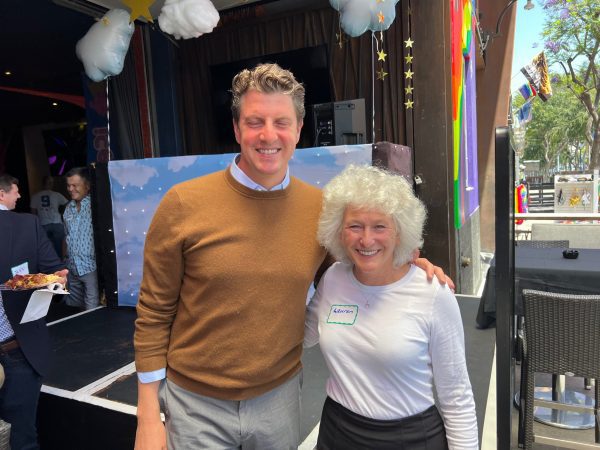 Meister was introduced by West Hollywood resident Alan Strasburg. First she thanked the hosts, Michael Neimeyer, Adam Emarian and Don Wise of Micky's. 'Thank you for always being there for me, I hope to always be there for you"
Meister continued acknowledging former Council member John Duran, "we started off on opposite ends of the world" but we ended up not only being able to work together on things we had in common but also being friends." Meister continued, "you really grow into being a Council member, your not born into it. I never thought of myself as a politician but as a community advocate. Thats where my journey started, in the neighborhoods and thats how I got here."
"Three things we have to focus on are Public Safety, Homelessness, and Affordability of Residential and Commercial Spaces.
"We need to make sure that my colleagues know we are for Public Safety, we like having our Sheriff's around and we don't want to see defunding of police. All of these other things, behavioral work that needs to be done can be done in addition to our Sheriff It does not not have to be either, it can be all of it "And thats what we should be demanding all of it."
Meister continued "We need to focus on the City of West Hollywood. It seems like the focus has been everywhere. And Im just trying to bring it back to West Hollywood"