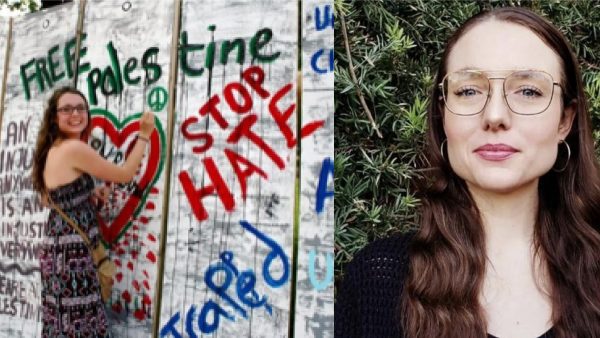 Dillon Hosier, Chairman of the Israeli-American Civic Action Network, speaks out in confidential document leaked to WEHOville. Hosier's comments are directed at the backers of Chelsea Byers for West Hollywood City Council.
"We will be actively and vociferously opposing Chelsea Byers' candidacy and anyone who supports it," said Hosier at the end of his letter directed to Jeff Seymour/Seymour Consulting, DJ Moore/Latham and Watkins, Jim Arnone/Latham and Watkins, Pete Scantland/Orange Barrel Media, and Aaron Greene/Afriat Consulting.
Seymour/Moore/Arnone/Scantland and Greene are not residents of the City of West Hollywood but have business interests in West Hollywood.
Chelsea Byers is a candidate for the West Hollywood City Council. She moved into West Hollywood about two years ago. Byers is the girlfriend of former Horvath campaign manager Austin Cyr. Byers is also John Erickson's direct appointee to the Human Services Commission. Byers has no history of voting in any West Hollywood elections. Byers has the support of both Horvath and Erickson in the upcoming West Hollywood City Council election.
Hosier addressed his concerns to the big money backers behind Byers.
A copy of Hosier's mail was leaked to WEHOville. We have reached out to Hosier, Seymour, Greene and Moore for comments.
---
Dear Aaron, Jeff, DJ, Jim, and Pete,
On behalf of my organization and our leadership, I write to bring to your attention very disturbing information that has come to light about a candidate that you are supporting in West Hollywood named Chelsea Byers.
​
Chelsea has a long history of fringe and radical activism that, in our view, is anchored in antisemitic beliefs. See the attached PDF for a detailed review of some of her antisemitic activities. Most concerning is:
1. She attended several AIPAC events and led protests opposing US foreign aid to Israel – a policy that just last year 420 members of the U.S. House supported. She is on the wrong side of a majority of Americans on this.
2. She participated in an anti-Israel protest in front of the Israeli Consulate in Los Angeles where "from the river to the sea, Palestine will be free" was chanted, effectively calling for an end to the Jewish of Israel.
3. On her nonprofit website, Beautiful Trouble, she promotes Hamas as a form of protest: "Hamas explains itself. It is a demonstration in both senses of the word: a protest and an exposition of the reasons for that protest." see: https://beautifultrouble.org/toolbox/tool/hamoq-and-hamas/)-How do we know that Beautiful Trouble belongs to Chelsea Byers? The donate page lists her home address in West Hollywood. (https://beautifultrouble.org/donate)-We'd suggest you look further at her activist principles, especially: https://beautifultrouble.org/toolbox/tool/dont-dress-like-a-protester/ where she states "If you look like a stereotypical protester, it's easy for people to write you off, but if you look like the girl next door, people just might sympathize with you instead" – consider who you are really supporting.
Last week, my organization held a two-hour meeting with her along with West Hollywood Israelis, Persian Jews, and children of Holocaust survivors. When asked to explain herself and whether she regretted her activism which endangers so many Jews today, she expressed little remorse and left the participants feeling more disturbed.
And, her history of opposing and protesting mainstream Democrats should give us all pause.
Of Hillary Clinton, Chelsea said: "She's taken more money than any candidate has from arms dealers and weapons manufacturers," said Chelsea Byers. "We know that when they are investing that much into the election that we can expect a future full of war. This candidate has taken that money willingly." (see: https://beverlypress.com/2016/02/31065/)

In short, Chelsea's fringe and radical anti-Israel antisemitic activism is what incites the kind of hate we saw just this past weekend in West Hollywood and Beverly Hills (https://ktla.com/news/local-news/investigation-underway-after-van-with-antisemitic-messages-seen-driving-around-west-hollywood-beverly-hills/). If a person with Chelsea's past gets a seat on the West Hollywood City Council, it is our view that antisemites will only be emboldened to take more action, possibly resulting in violence.
West Hollywood is a city that not only tolerates differences but promotes mutual respect and diversity – Chelsea is not a candidate that reflects those core values. Her candidacy is an offense to Jewish residents in West Hollywood, many of whom are Holocaust survivors. In fact, the wife of the Israeli wrestling coach murdered by Palestinian terrorists at the '72 Olympics calls West Hollywood home, she will be disgusted if a person like Chelsea is elected to serve on the City Council. (https://www.ynetnews.com/articles/0,7340,L-3205661,00.html)

We will be actively and vociferously opposing Chelsea Byer's candidacy and anyone who supports it.
Thank you, and if you have any questions, please feel free to reach me on my personal cell at: 818-264-9916. I have copied my friend and colleague Rabbi Denise Eger from Congregation Kol Ami in West Hollywood, who also has serious concerns about Chelsea Byers.
Dillon L. Hosier
Chairman and Chief Executive Officer
ICAN: Israeli-American Civic Action Network
Mobile: 202-888-4240
Email: Dillon@IsraelUSA.orgWeb: www.IsraelUSA.org
Social: Facebook | Twitter: @DillonHosier | LinkedIn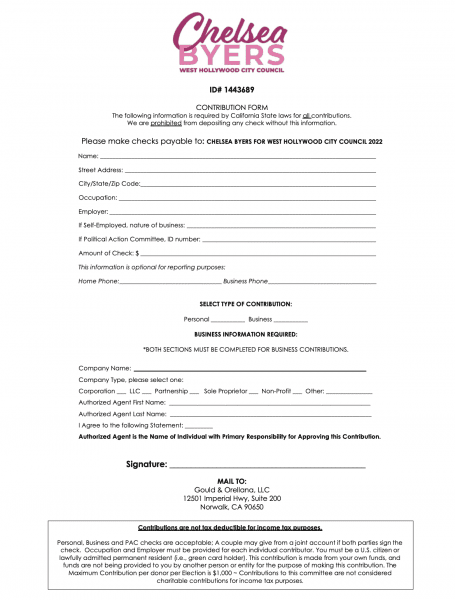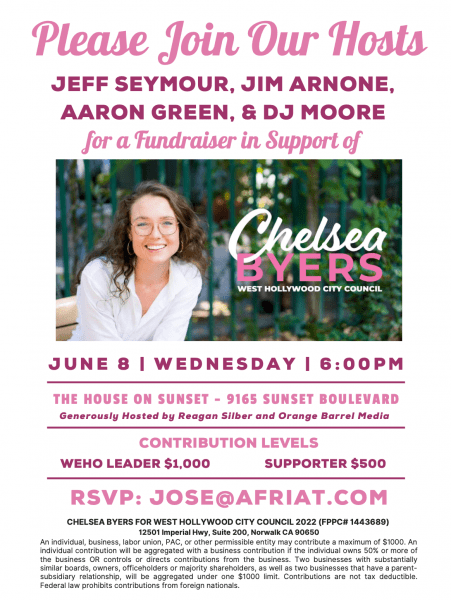 UPDATE : We reached out to Seymour, Greene and Moore with the question – were you aware of Chelsea Byers history before planning this fundraiser? Greene replied via email.
"Due to unforeseen scheduling issues the event previously scheduled for June 8th has been postponed. My co-hosts and I have known Chelsea through her good work advocating for affordable housing and improving West Hollywood. We were not aware of her work on international policy issues prior to about two days ago."
Aaron Green
President
The Afriat Consulting Group, Inc.