Boystown Media Inc. is the company that was formed to purchase WEHOville.com in April of 2021 from KF Media, KF Media was a Las Vegas corporation who had purchased the domain WEHOville.com from its founder Henry Scott in November 2020. Henry Scott owned 75%, his partner Doug Stichler owned the 25% under the corporate name West Hollywood Media Corp. (WHMC).
Since the purchase of WEHOville in April of 2021 a number of legal claims have been made against Boystown Media for articles published by West Hollywood Media Corp (WHMC) .
This past week I reached a settlement with the Weinberg Law Group. The settlement releases Boystown Media of all claims in exchange for a retraction of the article. The article published by WHMC contains allegations of an incident of sexual harassment at the VIPER Room, and the use of a copyrighted photo. The full release stated "No Admission of Liability." on behalf of Boystown Media. "This Release Agreement affects the compromise and settlement of disputed and contested claims, and nothing contained herein shall ever be construed as an admission by any party hereto of any liability of any kind to any other party"
In a second case a local comedian who lived in West Hollywood was accused of being arrested on felony criminal sexual assault charges. The 2014 article written by the former publisher of this website detailed the alleged abuses. The comedian was found not guilty and appealed to Boystown Media to take down the article. The comedian's public relations firm wrote "
'XXXXX has had quite a bit of trouble in both his professional and personal life due to being wrongly accused.  He is a nice guy who has five sisters and a lovely relationship with women.  He would never do anything like this. But in this cancel culture of 2022, it is really hurting him. In fact, he recently auditioned for a part on a television show and the producers googled him, saw these articles and told his manager that he would not be hired for fear of this getting out."
Former publisher Henry Scott who wrote and published the article agreed and wrote to the comedian directly this past week.   "I am confirming that I have no objection to his granting your request involving the stories that were published on WEHOville.com about the lawsuit/charges filed against you."  
Over the past few weeks there have been numerous attempts by former publisher Henry Scott to disrupt the business affairs of WEHOville again. In a letter to the City Council on 5/18/22 to the City Council and the City Manager, Henry Scott wroteL "City Hall would be wise not to spend taxpayer dollars on advertising to support a platform like this"
Council member John D'Amico fired back at Henry Scott, and the :bcc that was made to a host of city officials.
"Hank, Hope your well, Please don't blind carbon copy me on these emails. Unless you need an action to be taken by the city. If you do not please write to me directly. I am copying our city attorney since there's mention of the city and a former City Council member."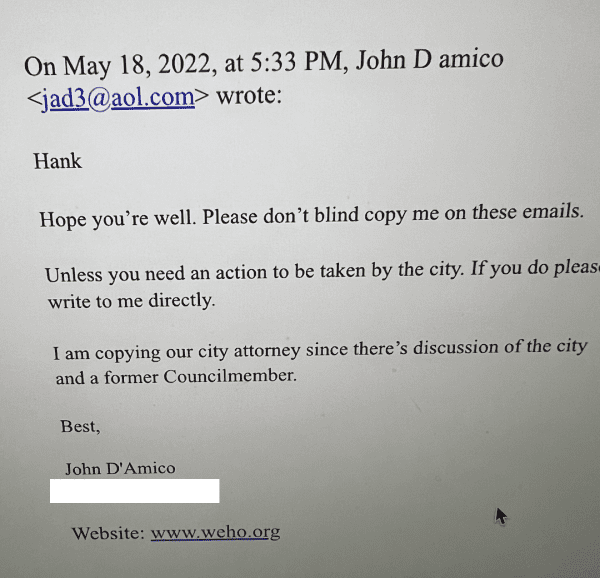 After the email above and due to the number of problems associated with Henry Scott, WEHOville has updated the byline of the former publisher to Former Staff. This was a move we must take to distance ourselves from the previous owner and many of his writings and his continued actions meant to harm WEHOville and its partners.
After the updated byline Mr. Scott created a twitter account called 'wehovile' . He has started a change.org petition to restore his byline and posted personal phone numbers of the business partners. He has made numerous phonecalls to have his byline restored to a publication he wants to destroy.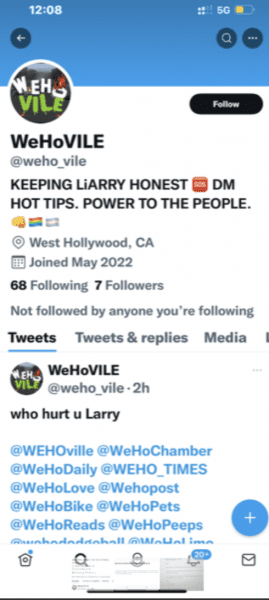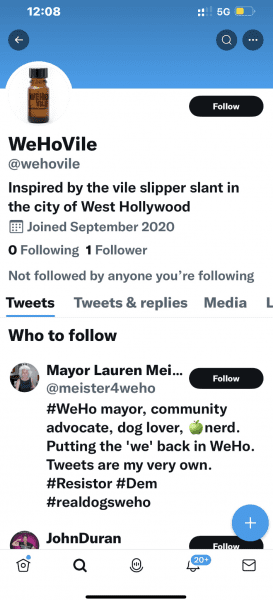 Henry Scott's actions following the purchase of WEHOville by Boystown Media Inc. included attacks on the first editor Tony Castro and his wife. Those actions caused Castro to resign. Henry Scott also took control of the WEHOville facebook and instagram accounts often posting negative comments about the publication he had founded. Boystown Media retained an attorney at the time and proceeded to serve Mr. Scott at his Tribeca location in New York City. After many attempts to serve Scott a 'CEASE AND DESIST' we were told Scott was no longer at that location.. Scott eventually turned over the social media accounts in exchange for the removal of the original article.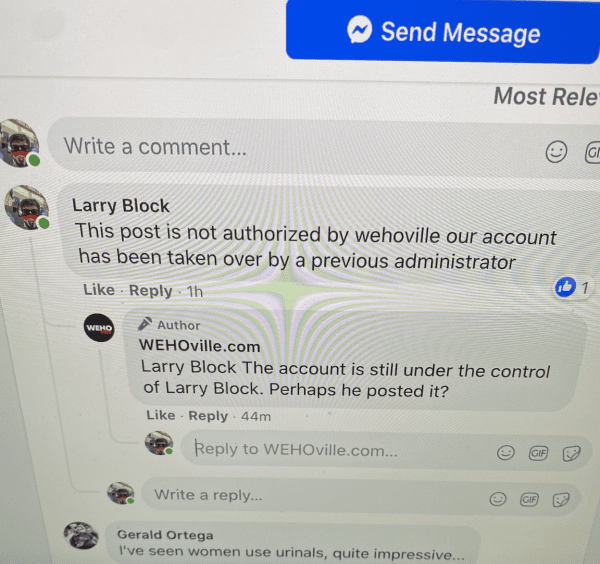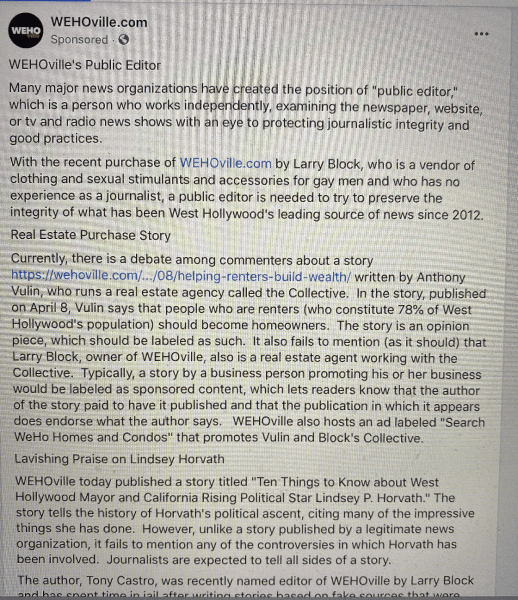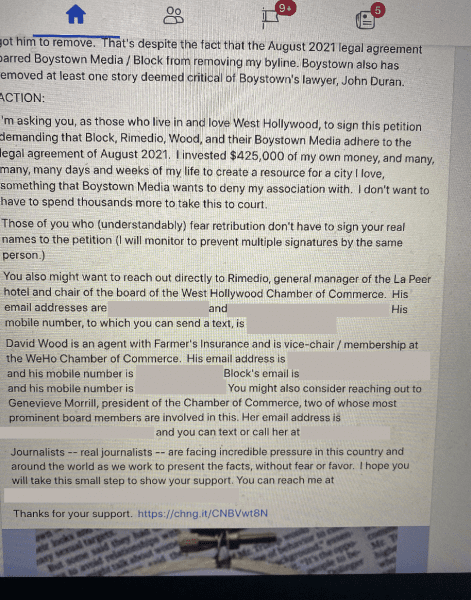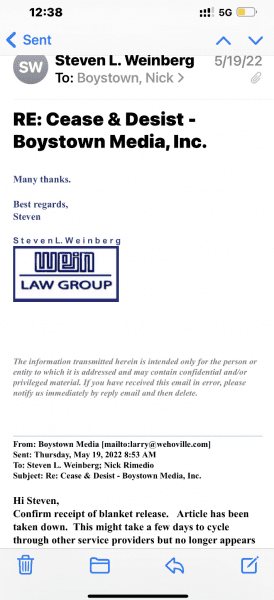 I can't imagine hiring a guy who is going to sell his interest, and then 'steal the social media accounts, then blackmail you to get them back and then create fake twitter or other accounts to hurt the company. Henry left town so quick, sold this so quick, Doug never got a penny, and Henry closed down the WHMC Media company. I've had to come to terms with a number of vendors that were left behind, including a having to petition the CNPA, California News Publishers Association for re-admittance.
Due to the confusion of changes in ownership and the liability associated with writings of the previous publisher we have instituted a process for removal of older articles. If there is false or misleading information that you wish to be removed please contact larry@wehoville.com .
To be quite honest, I'm not comfortable living under this type of duress. Henry Scott has been offered to purchase the wehoville.com at the same purchase price he sold it. This was his baby, not my baby, I was trying to do the best I can to keep the baby going, but Henry Scott has been undermining us since we took over. All options are on the table.
If anybody out there is interested in any articles that were written prior to January 1st 2020, please take your time to use our search bar and. copy those articles. Our future does depend on the past and the best way forward to clean the whole thing up once and for all. Thank you.