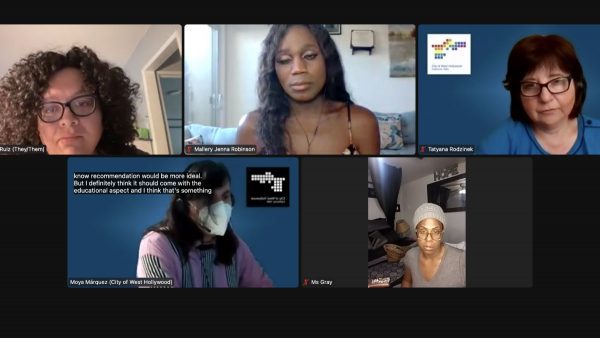 The Transgender Advisory Board backed a proposal at their meeting today to require City Councilmembers, Commissioners and Boardmembers to display their pronouns during official meetings, either on physical nameplates during in-person meetings or digitally on Zoom.
But Boardmember Andy N. Ruiz wondered whether it needed to be a requirement.
"I would prefer it to be recommended rather than required," Ruiz said. "And if such, it should also be accompanied with an educational component to it. I definitely think that would be more conducive forging these relationships with the trans community if it isn't required."
"Is it necessary?" asked Boardmember Deshon Gray. "Because if we feel like It's necessary collectively, then let's do it. But if you make it a recommendation, and some people do it and some people don't, you take the risk of being in a space where a person looks away, and you may be 'they' and someone may call you 'he' and then there's the issue. So if it's gonna be done uniform, it has to be something across the board."
The boardmembers largely agreed with Gray and the idea of providing education about the policy, though Ruiz re-iterated their concerns.
"I definitely always (prefer giving) the option for people to have that option to do it or not, rather than require, just because required always just sounds really harsh."
The board's recommendations will be presented to City Council at a future date. The Transgender Advisory Board will tentatively return to in-person meetings in July.