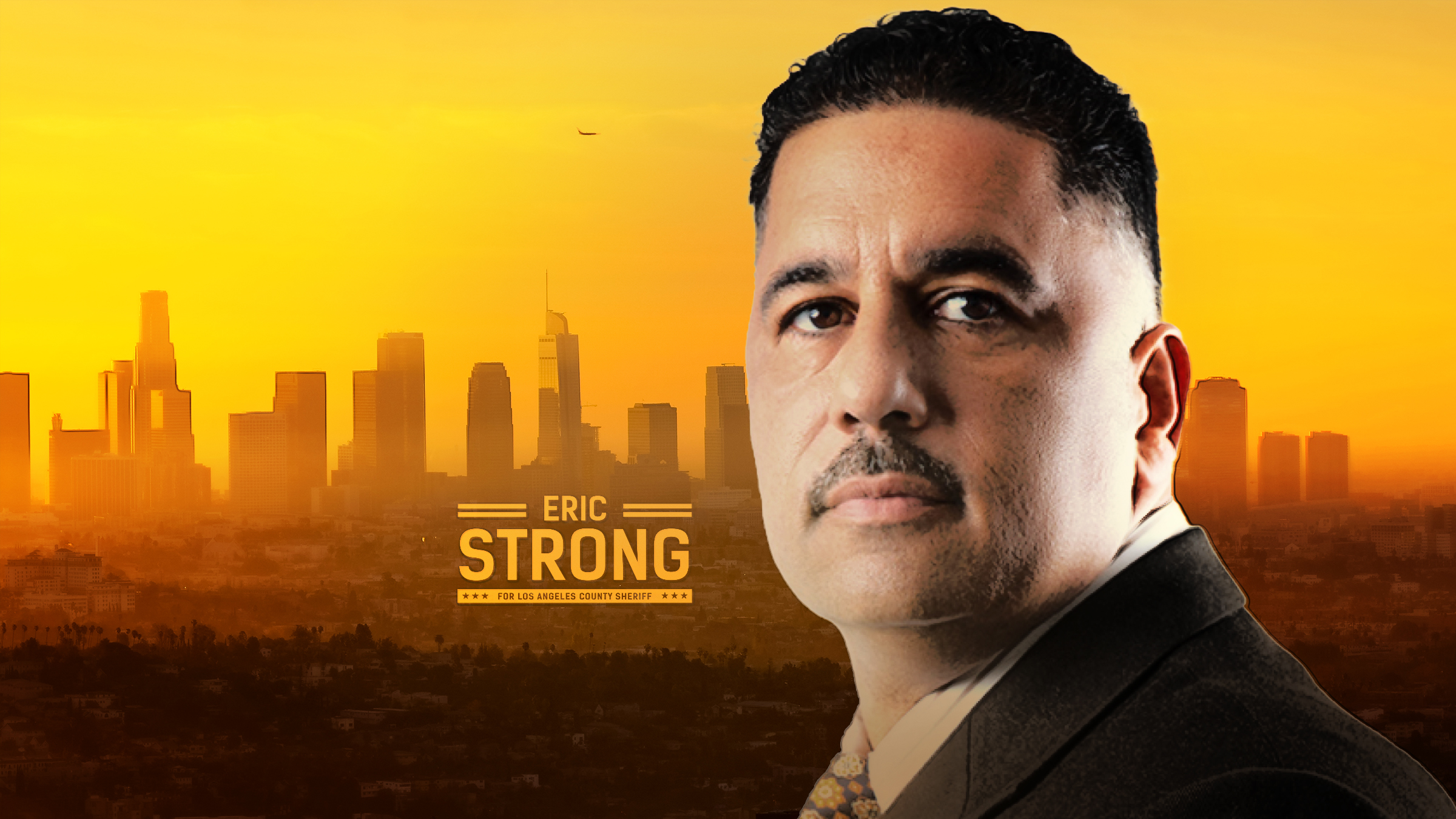 Hi Eric! Thank you so much for calling us. I'm sorry we didn't get around to interviewing any of the candidates in the Sheriff's race but welcome to West Hollywood. Tell us about you where are you from and a bit about yourself.
I'm born and raised right here in LA County. As a young kid we lived in Carson, San Pedro area and when my parents separated my mom moved to Harbor City, then La Mirada. My dad stayed in LA proper. Most of my adult life I've been in the Inglewood, Culver City area. I've been in law enforcement for close to 30 years. I've worked at three different agencies. I did not come up through the Sheriff's Department. I didn't go through their academy or their Patrol School. I was absorbed into it about eight years ago.
What are those agencies?
I worked for Compton Police Department and Pasadena Police Department. I worked in the in the 90's at probably some of the most violent crime ridden areas by ratio in the country as well as some of the most affluent areas. I think that's a very broad expanse. What I realized is that it doesn't matter where you were, it doesn't matter what demographic or socioeconomic, or what population you're dealing with. Respect, dignity and compassion is what makes this job go well.
When was the last time you were in West Hollywood?
About a week ago. My wife and I come up here and go to dinner or drive around. Our oldest son works down on Melrose so we're always in the area.
Are you familiar with our public safety issues here in West Hollywood?
Yes I am. I know that there's some issues that we need to fix and I think that one of the things we got to realize is that West Hollywood is one of the most dynamic contract cities areas that we have. What was particular about West Hollywood and what I want to do within our Sheriff's Department is to create a civilian advisory committee for every station. What West Hollywood residents and business owners are looking for from the Sheriff's Department is different than what San Dimas station may need. San Dimas is at the foothills of the mountains and they're worried about fires and bears you know what West Hollywood needs is different. I want to create and convene a committee that brings stakeholders to the table where they are part of the policy and part of the decision-making process in every single one of our contract cities.
What about questions regarding the audit the sheriff's books? Do you have a position on that or familiar with those financials where they were accused of over-billing?
Yeah, so that has been going on for a very long time …
Whats been going on a long time, the audit or the over-billiing?
We've been talking about over-billing with contract cities for a very long time. I have no doubt that it is occurring. One of the things that I will do when I first come in to create a team, an audit and accountability team. I really want an outside entity to come in and do a forensic financial audit of the entire department.
Your thoughts on the idea of the mobile mental health units coming from the County level versus you the way the sheriff's employed now?
I support bringing in the mobile evaluation team, as we call it, but separating it from the Sheriff's Department. Now that model looks like putting a mental health worker along with a deputy in a car. We can take a look at that model or it may also look like just removing deputy sheriffs from the initial response. Letting a social worker, a mental health worker go and respond. I know there's some legislation out there where they're trying to get 988 as a call center for mental health issues.
Didn't that pass? Doesn't that go into plan like right now ?
It hasn't taken effect yet but that's what I'm saying they're they're putting that in order. They're going to get that set up so when you call the Sheriff'S Station and you have a call for service and say, hey you know there's somebody here having a medical issue that can be having a heart attack we push a button and it sends you directly to the fire department because that's who you need that's has the resources you need. We can have something our dispatch tied in if we get the information and if something has to do with mental health and the person didn't call 988 we should be able to push a button. We have to update our communication system. Push a button and get you to the resources that you need and I fully support that.
Axon has the body cameras that upload to the web. The cost savings through eliminating paperwork for all to view. As a whole on the County level how deployed are we on body cameras and on the newest technology? Is there a body camera on every single officer today?
No there's not. Every single officer, every deputy should have a body camera absolutely.
And what about the new technology cost savings by being able to upload the documents to the cloud-based policing to save time?
Definitely, Larry, we have to get up to date with best practices in law enforcement. We have to use technology to our advantage. We are the largest Sheriff's Department in the country. You go to other agencies. NYPD which is even bigger than us, but they're not a Sheriff's Department and they're able to implement these type of things. The challenge is always going to be how much does it cost. But also that if we want to do it, if it's important enough to us to do it, we want to get out there and do the homework and the research that's going to make it successful.
I don't think anybody's wanted to do it. They don't want to automate because guess what—– now you got to take hundreds of millions of dollars and put it into this technology—– when they want to be able to take the hundreds of millions of dollars and play with it in the ways that they want. As far as body cameras, if you listen to our sheriff he'll tell you every single deputy is outfitted with body cameras. But, no they're not. I'm here to tell you they're not. Every time we look up there's incident that happened and they didn't have the body camera or it wasn't working, it wasn't charged, it didn't work whatever.
I think that our deputies should have them inside our jails. People visualize deputy sheriffs as those black and white cars driving down the street. They forget that we have the largest jail system in the country. We have the largest court system in the country. So it's necessary to make sure that we are aware of what's going on in our courts and our jails.
So what makes you different than your opponents?
My character, my integrity. The fact that I've been outspoken and have spoken up against wrong my entire career. My wife is on this department. She brings 27 years of experience within this department. She was recently put under investigation and transferred for being a whistleblower where she reported some bad conduct on the Sheriff's Department. They were serving moldy bread to like 3,000 inmates over two days—- so this is part of the problem with our Sheriff's Department. There's been failed leadership for decades. The problems that we're seeing right now didn't start in 2018. When we look at deputy gangs, for example, you know we've been talking about this for 40 years.
What makes me different is that number one, if you want to get ahead in the Sheriff's Department, if you want to get into the executive ranks —there is no legitimate testing process to get there. It's literally just a tap on the shoulder.
What does that mean?
It means you have to pledge your allegiance, pledge your alliance to the man above. What does he tell you? He says hey look Larry, I'm gonna I need you to deliver my message my way. When I tell you to- how I tell you to- and do it where I tell you to- and if you do that for me I'll give you this. You know, a path to better living. I'll give you this promotion. Then when you do that for me good for a couple years I'll give you another bump and then another bump. What that does is you silence a lot of people.
For many who are running when they had an opportunity to impact change we didn't have much change. It's sad. Because I sit with them in all of these forums and I sit with them at all of these candidate town halls and I worked with them, I worked underneath them and I'm sitting here saying wait a minute when you had the opportunity to do this I I've never heard you come out and publicly say any of this. Then you were in the position to impact the change now you're talking about. So I think what sets me apart is that I've never sacrificed my character and my values for my personal gain.
What about the relationship to the County Supervisor from the Sheriff today?
It's horrific. It has been damaged beyond repair. He will never be able to repair that relationship. It is indicative of who he is. I've known alex for over 18 years and anybody that knew him that worked with him that worked around him nobody's surprised about what we're seeing from him. This is part of his character.
Do the County Supervisors share any responsibility in the broken relationship?
You know anytime there's a relationship all parties share responsibility, so absolutely. However anytime there's a relationship you shouldn't expect 100 concurrence 100 agreement. We don't do that with our mates or our partners, our spouses, our kids, you know our co-workers, our colleagues, So when you look at the insults or being just crass and being defensive and blaming them for everything. I think the onus the large part of the onus of the failure in this is on is is the Sheriff's Department.
Is the Sheriff Department broken?
Yes it is. We need to turn it upside down. It's been broken a long time. We are coming to a head of actually seeing and visualizing the brokenness. Don't get me wrong there are thousands and thousands of good women and men out there doing what they're supposed to do every single day. However when your headlines are about deputy gangs; when your headlines are about bad shootings; when your headlines are about jail abuses and cover-ups it's broken/
You have these deputy gangs that are getting all the attention. You have these jail abuse that are getting all the attention. If we get rid of them we won't have some of the same headlines. Then maybe we can turn those things around. But the the Sheriff's Department is outdated. It's broken in the terms that. It's a bit incestuous.
The Sheriff's Department is broken in terms of our current sheriff . He thinks he's the only one with the answer to everything, He doesn't listen to other people.
Let me ask you a couple of final questions- diversity , lgbtq , transgender officers, gender neutral bathrooms. Any thoughts on on that topic?
We need them. Let me put it to you like this, anytime you start off with our organization represents the population so in other words let's just throw out an example I'll use the black community for example because this is the most recent example that I heard. LA County is 8% black our Sheriff's Department is 7% black so therefore you know we have a demographic match that is a racially discriminatory. Whatever the percentage is anytime you have a demographic match for any demographic that is a a racially motivated or gender motivated hiring practice because what you're saying is once we get to that match we're going to stop right. I make sure that I put somebody from the lgbtq plus community in our leadership. So what we really need to do is is we need to create our diversity based on who's the best person for the position.
Jow do you feel your chances are in this election going forward?
I feel good I think. We have a lot of momentum. I hope that people are really digging in doing their homework. That's probably the most scary part is that there are so many people out there that don't even realize there's a sheriff's race going on. I mean you kind of mentioned it you know as far as not really covering it all that well and and that's that's that's standard across the board.
I saw Stevie Wonder endorsed you. Have you met Stevie Wonder?
Yes. Is there a song that mirrors your campaign or that you're using? I won't say that there's a Stevie wonder song but probably one of my favorite albums is "We are the World". is a great song about you know bringing people together. That's what Stevie represents. Stevie is a very very conscious person that wants the world, our country to be better. Stevie things, how do we improve our world and so to have him supporting me is is just it's something you can't even describe. I've had a chance to sit down and talk with him several times. We talk on the phone he's just such a wonderful conscious person. He constantly is challenging me to think of other things and other ideas and how do we how do we bring fixes and solutions to problems.
Mr. Eric Strong, – great name for a Sheriff. I wish you the best of luck in your campaign. Thank you very much.