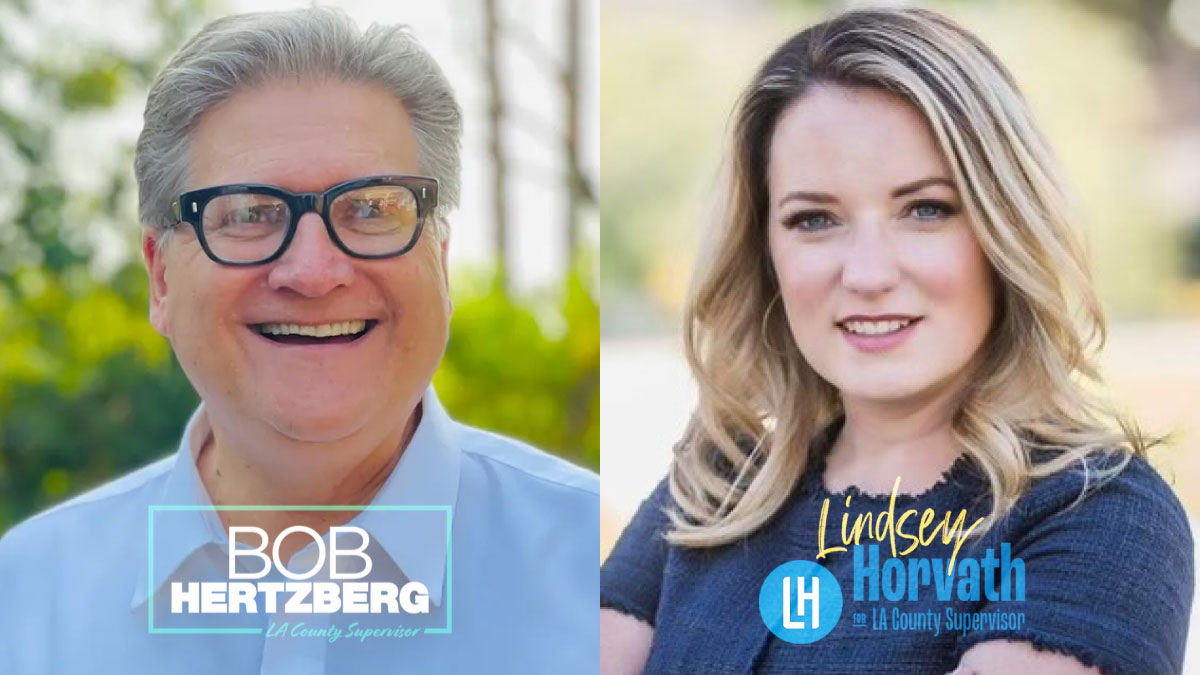 Bob Hertzberg is currently the top vote getter in the primary race to represent West Hollywood as its next County Supervisor, with WeHo Councilmember Lindsey Horvath trailing in second place as of publication time.
With Election Day ballots still being counted, the longtime state senator of the San Fernando Valley has captured more than 48,000 votes, or about 35 percent of all votes cast and counted. Horvath, with about 25 percent, is behind by nearly 15,000 votes. If the totals hold, they will face each other in the November runoff election.
Hertzberg's fellow senator from the Valley, Henry Stern, is currently in third place with more than 30,500 votes, or roughly 22 percent. The remaining 14 percent of votes are split between Jeffi Girgenti, Roxanne Beckford Hoge and Craig Brill.
With public safety at the top of voters' minds, Horvath's campaign seems to have successfully portrayed the stalwart progressive as a tough-on-crime candidate, while barely mentioning her gung-ho advocacy for alternative policing and her efforts to defund the Sheriff's Department.
Hertzberg, however, was the candidate endorsed by the county's law enforcement unions — something Horvath suggested was "untrustworthy" during a recent debate.
Down the ballot, Sheriff Alex Villanueva received 32 percent of the vote, sending him into a runoff with Alex Luna, who got 26 percent. Villanueva's brusque style and hard line on criminal justice have made the Democrat somewhat of a bête noire in his own party, particularly for WeHo Public Safety Commissioner Nika Soon-Shiong, whose billionaire father owns the LA Times.
Voters handed easy victories to Gov. Gavin Newsom, Congressman Adam Schiff and freshman California U.S. Sen. Alex Padilla.
Capturing just under 50 percent of the vote, former WeHo Councilmember Jeff Prang appears headed for a runoff in his bid to be re-elected County Assessor against Sandy Sun.
Republican Lanhee Chen currently leads the vote for State Controller, a potential milestone for the GOP in deep-blue California, which hasn't had a winning statewide candidate in years.
Nick Melvoin, whose district includes West Hollywood, has a comfortable lead in his re-election bid for Los Angeles United School District.