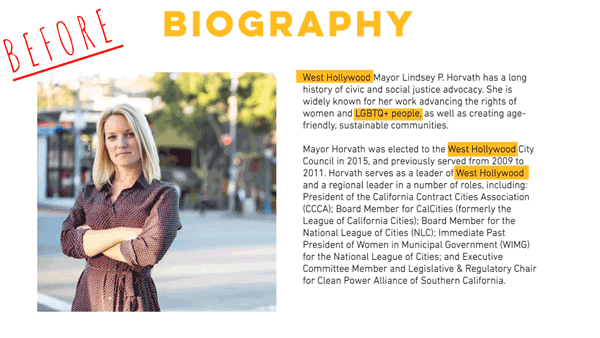 Councilmember Lindsey Horvath has dropped mention of West Hollywood from her website as she plans a run against Bob Hertzberg for the open seat on the Los Angeles Board of Supervisors District 3.
If you thought "Don't Say Gay" was bad in Florida … Lindsey Horvath dropped the West Hollywood brand from her website. This was pointed out in an article in the Acorn. The Acorn is an independent news source covering the Valley Cities. Author Scott Steepleton uncovered the flip-flop.
As started in an article by Scott, "A strange thing happened on the way to Election Day, however. Horvath's campaign website makes scant mention of West Hollywood, and doesn't specifically state anywhere that she is a Councilmember there, let alone a two-time mayor."
Instead, the biography page states, "In 2009, she was appointed to serve as a City Council member following the death of a long-serving councilman. She returned to the council in 2015, was sworn in as mayor in April 2015 and again in May 2020. Lindsey led the city's response to the COVID-19 pandemic."
Horvath also continued to call herself "Mayor', in her biography up until the June 7th primary.
Also removed were the words "advancing the rights of women and LGBTQ+ people".
Missing is any acknowledgment that the city is West Hollywood, perhaps a conscious effort by the Horvath campaign to attract some of the new conservative voters in the northern part of the 3rd District.
'WEHOville has received permission from the Author Scott Steepleton and the Acorn to quote from his story'