Hello Neighbors,
Metro is hosting two virtual community meetings for the Crenshaw Northern Extension project. The meetings will provide an update on refinements Metro is studying for different route alternatives being considered for the project.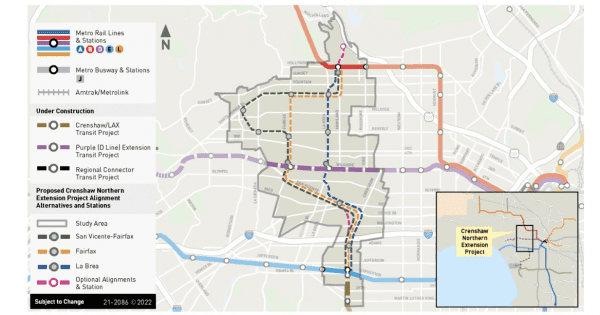 METRO MEETINGS VIA ZOOM:
Thursday, June 16, 2022
12pm to 1pm
Zoom Link: https://us02web.zoom.us/j/83798019843 

Tuesday, June 21, 2022
6pm to 7pm
Zoom Link://us02web.zoom.us/j/83798019843
Interested residents can also email Metro directly with comments.
The City of West Hollywood has expressed a strong preference for the San-Vicente Fairfax alignment (in green above) that is proposed entirely underground. The West Hollywood West Residents Association has also expressed the importance that Metro be underground if the route chosen is San Vicente Blvd between Beverly and Santa Monica Blvd.
Thank you for your support and commitment to your neighborhood.