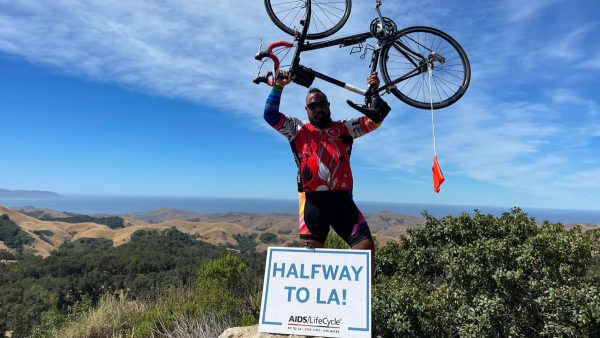 Robert Gamboa rode with a heavy heart during his first AIDS/LifeCycle ride from San Francisco to Los Angeles back in 2014.
His twin brother Albert had died suddenly of AIDS two years earlier. Neither Robert nor his parents nor anyone else knew Albert had HIV. Nobody knew he had addiction challenges either.
"It was just shocking to find out at the end," said Robert, who is also HIV positive. "It was always sort of disturbing and sad that he didn't feel comfortable to share anything with anybody — not even me or our parents."
After all, Albert had always been the "good" twin.
"He went to church," Robert said. "He never cursed, never did drugs, never drank alcohol — ​​that kind of guy. I was the bad twin."
There was a shame attached to growing up gay and Hispanic in a Texas town like Lubbock, Robert says, that his brother never really could shake.
In the early 2000s, Robert moved from Texas to Sacramento, where they found the kind of acceptance they hadn't known before.
"I always say that moving to California, I knew was the right move within the first week of being here for two reasons: 1) no one cared that I was gay and 2) no one cared about the color of my skin. I never knew just how much institutionalized racism I was living with in Texas until I moved out of it and people actually treated me like a human being instead of looking and talking down to me so. I loved how that felt and I loved feeling like a human being."
Robert's family back home, however, was not so accepting. He says that took him down a dark path that led to several years of addiction before he found sobriety — and a community he could belong to in West Hollywood, where he now serves on the Lesbian & Gay Advisory Board.
"I'd been using drugs and alcohol for so long I didn't know a single sober person in Los Angeles at all," he said. "So I started to meet members of the sober community primarily in West Hollywood" — most notably Jimmy Palmieri, with whom he would eventually start the successful annual #BOOM and #SIZZLE sober events.
But his brother's death left a deep wound, and Robert took to the road to find healing.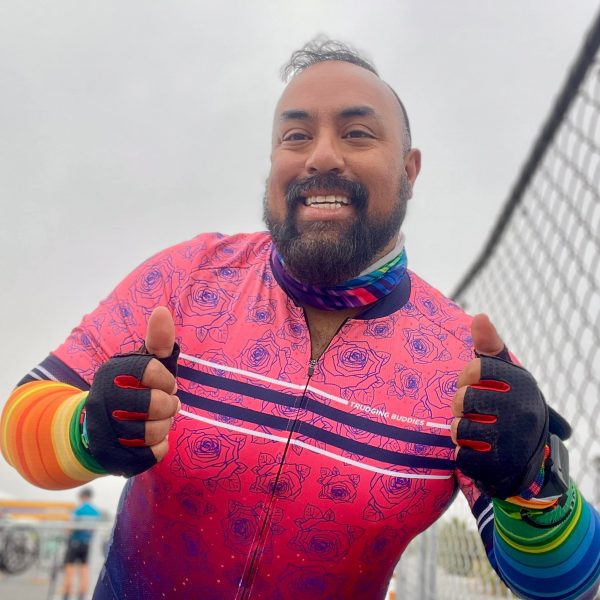 The AIDS/LifeCycle event puts bicyclists on a 545-mile trek from San Francisco to Los Angeles to raise money for HIV prevention and awareness.
On the journey is a pair of mountains between Paso Robles and Santa Maria nicknamed "The Evil Twins." 
Robert remembers reaching the top of the second peak and the majestic view of the Pacific Ocean. Then came the steep descent.
"It's terrifying. You're going fast, like maybe 30, 40, sometimes 50 miles an hour, and so if you let go of the handlebars, you lose control of the bike, and you're gone. As I started going down I felt this rush go right through me — not just because I was going fast. It wasn't just the wind. It was like this this spiritual rush and in that moment it was me feeling my brother's presence saying, 'I'm okay. I'm good. Everything is OK.' And so that was the signal to me that I that I could heal. I was crying so hard but I couldn't remove my hands from the handlebars because I would lose control of the bike. When I got to the very bottom I just got off the bike and I just stood there and just cried and cried and and one of the vehicles came and picked me up and they're like 'Are you OK?' And I was like 'I'm good, I'm done for the day, I got what I needed.'"
This past weekend, Robert again completed the AIDS/LifeCycle on the 10th anniversary of his brother's death. In the past decade, he's raised about $25,000 in his brother's name. The impact of the annual trek on his life only grows with time.
"The love bubble created within the AIDS/LifeCycle is the most magnificent thing anyone could ever experience."