The city's bi-annual budget meeting Monday night devolved into a debate about defunding the Los Angeles County Sheriff's Department.
City Manager David Wilson wearily fielded question after question about how much WeHo will be allocating LASD over the next two years, eclipsing any discussion of how the city plans to spend the millions not budgeted for public safety. 
"What is the justification for not diverting funds from the sheriff department?" asked Sylvester Ani. "Especially when I'm looking at data that shows that the West Hollywood station only solves 20 percent of the crime within the city?"
"What body of research are you using as part of your professional and ethical and fiduciary obligations to the city to rely on for recommending the $3.2 million not be reallocated to social services but instead go to the sheriff?" asked Alex with Civil Rights Corp.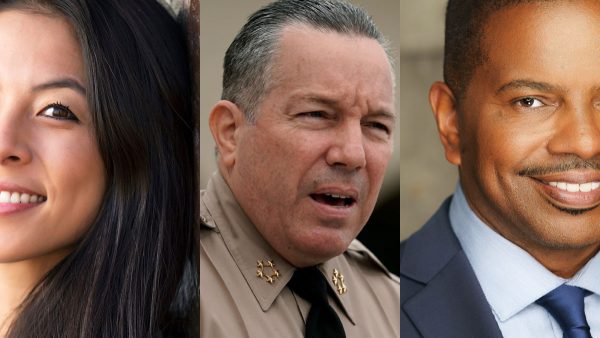 The Zoom meeting was open to the public, but fewer than 50 people attended, including city staff members who were hosting it.
Many of those in attendance were faces often seen at City Council, commission and advisory board meetings, but the commenters focusing on the sheriff were not familiar, as noted by former Councilmember Steve Martin.
"We've been battered since February by a lot of ideologues and out of town activists that have just kicked around the sheriff's issue and have been playing politics with public safety," he said, "and we're really tired of it. The Public Safety Commission — and I am friends with most of those people or consider myself friends of those people and respect them as individuals — but it has become a circus."
The de facto ringleader of the defund-the-sheriff movement — Public Safety Commissioner Nika Soon-Shiong — was first to speak Monday night. She accused the city of increasing the sheriff's budget by $1 million, and wanted answers as to why City Hall was "rejecting and/or ignoring" her commission's desire to hand $3.2 million of the sheriff's budget over to social services.
Wilson pointed out that her assumption of an additional $1 million was incorrect, noting that City Council would be the final decision maker.
Soon-Shiong's opposition to Sheriff Alex Villanueva and his department is well known and widely documented. This spring, she commissioned a private, unvetted analysis of the department's finances and presented it to her colleagues on the Public Safety Commission, who used it as the basis for recommending a reduction in the amount of funding West Hollywood allocates to the sheriff.
Public Safety Commissioner Kerri Balbone, among the last to speak, brought a dose of reality to the proceedings. She shared what went on behind the scenes at the commission over the past few months.
"I've had a front row seat to some of this," she said. "The first proposal that was put on the table was put on the table because of the amount of time that our police department spends on behavioral health issues during their day," she said. "That's how we got to 10 officers. That was the first request. Then that changed to 'no, no, no, we just want a social service upgrade,' and it wasn't about the time the officers were spending, it was just swapping it out. Then that turned into 'well, let's question the officer statistics around grand theft.' And then when we figured out that grand theft was because of the cell phones costing $1,000, it then became 'are they effective at solving cell phone crime?' So when we talk about what the goals are it's very clear that some people would like to defund or move dollars no matter what the data says — and I want to make that clear. And I'm not going to say that they're wrong because I don't think that that's for me to say because everybody has an opinion but if we're going to keep score let's keep score around the shifting story on both sides."
Balbone noted that budget money allocated to social services last year was actually left unspent because too few people sought the services. She longed for a peaceful resolution.
"I just hope that it can be respectful so that we can all hear each other's needs and continue to pursue balance," Balbone said.