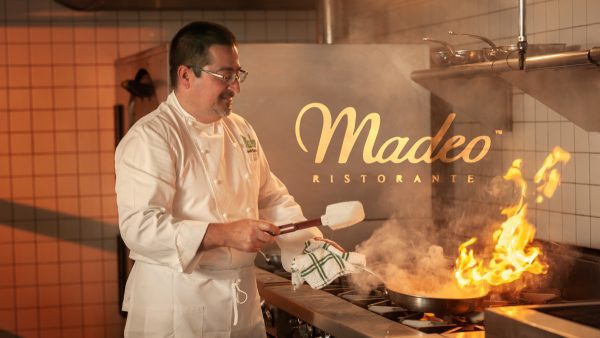 Madeo Ristorante will begin full operations on the weekend of July 1st. Alfio Vietina, Elvira Buffoni, Nicola Vietina and Gianni Vietina look forward to welcoming guests to their new location at 8490 Sunset Blvd. which blends their timeless Italian traditions with the heartbeat of West Hollywood.
The restaurant is serving dinner from Tuesday through Sunday. The menu features Vietina family favorites such as Scampi Alla Griglia, Penne Madeo, and Arrosto di Vitello.
The new space next to the One Hotel on the corner of La Cienega and Sunset Blvd. offers a familiar dining experience with new accents. The restaurant features Madeo's signature striped booths, a window that peeks into the kitchen, a sprawling bar and many familiar faces. Along the walls are photographs and art from Italy as the Vietina family knows it, offering a glimpse into the family's values and history. Al fresco dining reflects the family's coastal roots and is complemented with a view that sparkles with city lights.
For the time being, reservations are required.