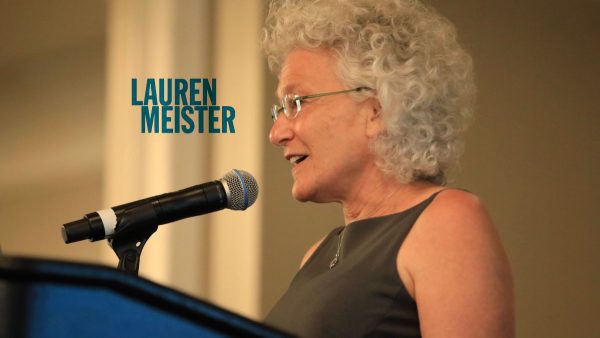 The West Hollywood Chamber of Commerce hosted the mayor's annual State of the City address at the London hotel with a who's who of city leaders and influential business figures.
The theme of this year's State of the City was "business resilience" in the wake of the pandemic and changing political winds.
"Is this the new normal?" asked Mayor Lauren Meister. "The threats we all face are growing in complexity and have widespread consequences — from natural disasters to human-caused events."
Her presentation on emergency management and crisis response implored residents and city staff to treat such issues as intrinsic, not as once-in-a-lifetime events. Her speech and slideshow are published below:
---
Mayor Meister's State of the City
Hello chamber members, city staff, and my colleagues. Welcome to the State of the City 2022.
As you may know, the theme of my mayoral term has been community resilience.
I'd like to quickly share my personal resilience story – In March 2020 when everything shut down, I asked my clients (in market research) if my phone was going to ring, and they said it would not be ringing. So, rather than worry and wait, I decided to go back to school to earn a master's degree. Well, 24+ months later, I can happily share, that I finally got my degree in public administration, with a concentration in emergency services management.
During the pandemic, we all learned how important resilience is – to a city, its residents and its businesses.
Community Resilience
What is community resilience?
Community resilience is the ability of a community to utilize available resources to respond to, withstand, and recover from adverse situations.
In the case of an emergency such as an earthquake, extreme heat, pandemic, or other disaster, a resilient community is one that is able to adapt and rapidly recover.
While we cannot prevent disasters from happening, their effects can be reduced or eliminated through awareness, preparedness and mitigation.
For those hazards that cannot be fully mitigated, the community must be prepared to provide an efficient and effective response and recovery.
City's Coordinated COVID-19 Response
It has been 27 months since the City of West Hollywood declared a state of emergency in response to the COVID-19 pandemic. As the global community was rapidly responding to the emerging coronavirus pandemic, the City of West Hollywood established emergency resources to assist with the response.
The City's coordinated response included:
• Working with other public agencies and various partners to respond to rapidly evolving circumstances;
• Modifying internal and external City operations;
• Using alternative strategies to meet community needs and deliver services;
• Establishing community protections to safeguard those most vulnerable;
• Taking action to ensure employee and community safety; and
• Advancing from rapid response to reopening measures and recovery.
Lessons Learned
While COVID is a single crisis, the nature of the pandemic and its burgeoning impacts over an extended period of time makes it an excellent case study for how the City should prepare for any crises, and what resiliency means in practice as we continue to live with COVID-19.
This has helped the City establish protocols that make us better prepared for, and ready to respond to and recover from, a crisis of any type.
WeHo Emergency Preparedness
So, how does West Hollywood prepare for emergencies and disasters? It starts with a Hazard Mitigation Plan.
In developing a Hazard Mitigation Plan, the City must identify potential hazards to the community, assess vulnerability to those hazards, and then reach a consensus on how to minimize or eliminate the effects of those hazards.
Potential hazards can change in terms of likelihood, or level of risk, over time — especially when considering the impact on the community. As we've seen, a pandemic can have a devastating impact on not only people's health but, also, the economy.
Climate change, evidenced by droughts and wildfires, has grown to become a serious threat for, not only our city, but our state, country, and the world. Active threats, such as mass shootings , have also increased over the years.
Having a Hazard Mitigation Plan tailored to the potential hazards of the local jurisdiction is crucial to being prepared. The Hazard Mitigation Planning process begins with organizing resources, followed by assessing risks, developing a mitigation plan, then implementing the plan, and monitoring its progress.
Business Resiliency
As we experienced during COVID, emergency situations may have a significant impact on the ability of the City's business community to maintain operations and to thrive.
The City took extensive and proactive emergency assistance measures and actions to support businesses and workers, while businesses adapted to protect their employees and to continue serving their customers and the community.
In the same way the City has learned from the COVID-19 crisis, businesses have learned the ways they can plan for disruptions to resources, processes, and even the entire business model depending on the crisis at hand.
While some businesses were not able to overcome these hurdles, others were able to innovate, advance, and succeed.
As we move forward, we will continue to face uncertainties, emergencies, and natural disasters that may challenges us as a City and as a business community. On top of public health and environmental pressures, organizations are subject to other business challenges, societal uncertainties, and geopolitical tensions that may disrupt business as usual.
Rather than focusing on a small number of direct impacts, such as financial risks, businesses must encompass the broader mandate of resiliency management to navigate these dynamic situations.
Long-Term Goals of Recovery
As has been said, "all disasters are local". Residents, businesses, and other stakeholders turn to their local public officials to lead recovery efforts following a disaster. While a disastrous pandemic may not have been anticipated in an Emergency Operations Plan, a recovery plan for a pandemic may be similar to recovery plans for other types of disasters.
Whether it is an earthquake that devastates a town or a deadly pandemic, the long-term goals of recovery are basically the same:
To ensure that…
the basic needs of residents are being met, such as food, shelter, clean water;
businesses can open their doors;
government facilities and services are operational; and
City Hall has the resources to finance the recovery.
As we absorb the lessons learned, we will continue to evaluate how we can use them to prepare better for future crises.
Looking Forward
Looking forward… there are several areas we can focus on to enhance the City's resiliency. One is communication, and this includes internal communications as well as external communications. A few months ago, I initiated an item to direct public safety staff to lead internal discussions with multiple departments and divisions, such as Planning, Public Facilities, Economic Development, UDAS, and Sheriff's and Fire, to focus on community resiliency efforts in a more holistic fashion.
Another area is business resiliency. The resilience item I just mentioned also directed staff to coordinate with our business community to provide resources for developing business continuity plans. Business continuity is vital to the economic recovery of a City in the aftermath of a disaster.
A third component of resiliency relates specifically to government and its ability to continue operations and services during a disaster or emergency. The City will continue to focus on enhancing and expanding its digital capabilities. From business licensing and permitting, to relief program applications and service requests, the ability of local governments to operate online is more essential than ever. The more City Hall can conduct city business online in a transparent and accessible way, the more adaptable and resilient our community will be.
As with many things in our daily lives, there is an expectation for rapid response tools, and the ability to receive services outside of normal office hours. The pandemic accelerated this trend and demand, and the City of West Hollywood is committed to enhancing its response with technology.
Decision-making Through Resilience
As I mentioned earlier, one of my priorities as Mayor is to make community resilience a top priority for the City and encouraging the City's decision-making to occur through a lens of resilience.
The City of West Hollywood should be the most prepared and resilient city in the country, for whatever emergency or disaster strikes – whether it be earthquake, drought, pandemic, or even a recession.
As we look at our General Plan, our Climate Action & Adaptation Plan, our Zoning Ordinance, our Housing Element, and, of course, our Hazard Mitigation Plan and Emergency Operations Plan, we must do so through the lens of resilience.
Our ability to respond, recover, and adapt, depend on it.
Thank you very much!