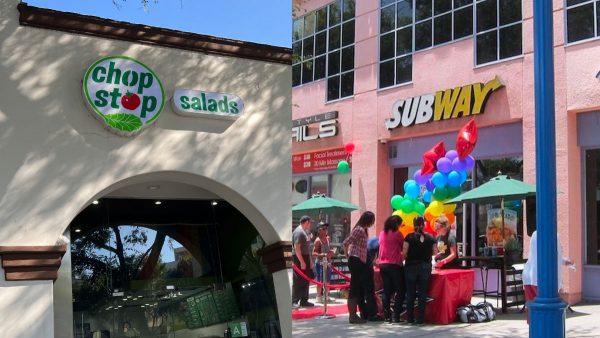 On Tuesday, as I do twice a week after going to a nearby gym, I went to Chop Stop to get two salads for me and my husband. As I approached the register the employee who I know well sang out "A Caesar salad, right? And what else?" because I always get a Caesar and my husband switches it up. After I greeted her by name and thanked her, I handed over my weathered pre-paid 15% discount card which I have used for over 4 years even though they have not been issued in 2 years. "You've got $13.45 left on the card" she said. I handed her money and said, "Time to recharge the card!".
She looked sheepishly at the other two employees and asked them, "Should I tell him?" and didn't wait for them to answer. "This Chop Stop is closing, our last day of serving is Thursday. All of us come in Friday to break down the store. They just told us a few days ago." She handed me back my $100 and card. I was stunned and asked "Did they offer you jobs at other franchises, what are your plans?" She explained that yes, they were offered jobs but that she lives far south of West Hollywood and the other 7 stores — all of which will remain open — are in the San Fernando valley. The commute is too difficult so she will look for another job. Another employee said she gets to this store by bus and can't possibly handle the bus transfers to the valley. The third is undecided. All live outside of WeHo and plan next to work outside of WeHo.
"Why, I asked, what happened? This is West Hollywood, full of people who want nothing but salad! You always do a great business! I often have to wait!" They explained the boss says that the minimum wage in West Hollywood is even more than the store can handle. So, they are keeping the other 7 stores in the valley open and closing the WeHo one. The rent may be going up also. We chatted some more about the discount card I would not use any more, the good times we have had knowing each other and I said how grateful I am for their having fed me and my husband for so many years including during the pandemic. I've loved knowing them, their names, and being remembered as a regular. She said she and the other employee who opened the store on its first day in 2012 will be closing it on its last day in 2022 this Thursday. Long time loyal employees and customers being displaced by the new labor law. I felt sick to my stomach and resolved to return Thursday with my husband to say goodbye. After that I went to the gym to tell the story to my trainer. He added that Subway is closing after decades in business on Santa Monica Blvd.
In November 2021 the city passed an ordinance raising West Hollywood's minimum wage to the highest in the country. There were stories in The Wall Street Journal, Bloomberg, and Forbes. Minimum wage at the end of 2021 was $13 to $14 per hour depending on the size of the business and rises in phases to almost $19 per hour by July 2023 for all businesses of any size and also mandating more than one month of leave per year half of which must be compensated. West Hollywood explained in the ordinance that hiking the minimum wage would "keep workers and their families out of poverty" and "enable workers to meet basic needs and avoid economic hardship."
Experienced business journalists predicted low margin businesses would close and the most vulnerable would lose rather than win. Business owners and unions were not consulted — and were shocked. One exceptionally in-the-know businesswoman, Lisa Vanderpump, said at a council meeting "I just implore you to really give this a lot of thought because I do believe if we raise the minimum wage now it's going to be counterproductive." At subsequent meetings, other business owners noted the wage hikes would force service cuts and businesses to move out of West Hollywood. And less than a year later the predicted economic outcomes are happening. West Hollywood residents such as myself lose, and the employees who city council grandly insisted would be paid more are now losing their jobs and having to move to jobs outside the city, leaving jobs they have had for a decade, and being paid less. Notably, Chop Shop franchises all over California, Arizona, and Oregon are not being closed.
I will ask – again – that the city council while staying liberal learn to function from reality rather than ideology. Council acted like know-it-alls rather than civil servants. Economists in all those national business news articles all saw what would happen why didn't council? All could see that businesses with tight margins would close. I have to believe that council did not want to see. Gracias Madre and Craigs – where no regular folks eat, stay open while Subway and Chop Stop close. All the employees are leaving West Hollywood. Neither ideology nor reality won here.