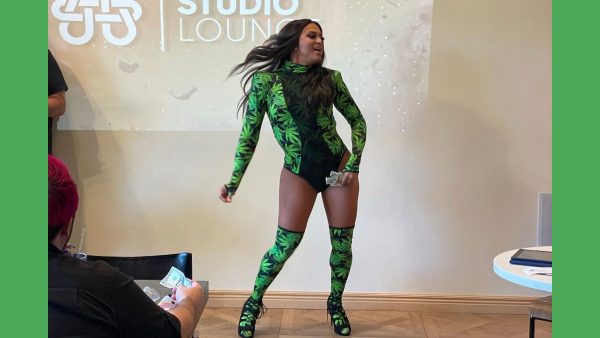 In West Hollywood, cannabis is a drag in more ways than one! Dispensaries and lounges in America's Funnest City are closing out Pride Month with a new Queen of cannabis. Drag performer Kalista Stage, now dubbed "Queen of the Emerald Village", has been crowned West Hollywood's top cannabis queen after the city's inaugural "Queen of the Emerald Village" month long pageant style competition and fundraising effort for Being Alive LA, a nonprofit client-driven organization focusing on the mental health and wellness of people living with HIV and AIDS.
The first of its kind Queen of the Emerald Village drag contest, produced by Emerald Village West Hollywood – the country's first municipal cannabis travel and tourism association, kicked off in May with a drag brunch at The Artist Tree Studio and Consumption Lounge, where lounge guests were entertained by contestant's performances and able to legally consume cannabis in Southern California's only operating cannabis lounge.
Crowning of the Queen took place during the closing ceremony hosted by RuPaul's drag contestant Kimora Blac Sunday, June 26 at The Artist Tree. Kalista Stage will wear her new title making a series of public appearances and meet and greets at West Hollywood dispensaries and lounges until Pride Month 2023.
While regions across the country are still figuring out how to embrace cannabis and LGBTQ+ culture, West Hollywood continues to pioneer creative ways to celebrate the intersectionality of its communities right in the heart of the Emerald Village. With celebrity owned dispensaries and lounges intertwined in West Hollywood's Rainbow District and famous Sunset Strip, locals and tourists alike should keep a close eye on the world's newest cannabis capital to see what innovative cultural moments come next.
For more information about Emerald Village dispensaries and lounges, Queen of the Emerald Village and Being Alive LA, visit www.emeraldvillageweho.com and follow @emeraldvillageweho on IG.