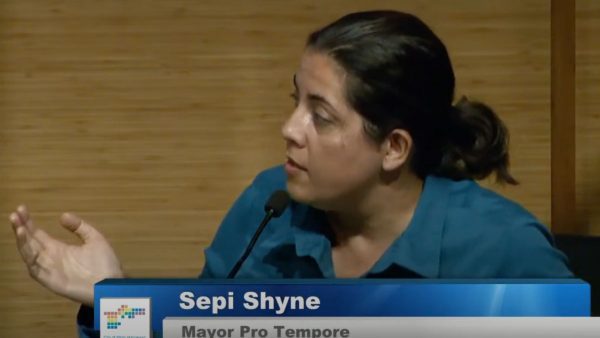 UPDATED WITH QUOTE FROM SHERIFF'S DEPARTMENT
West Hollywood City Council voted to reduce funding to the L.A. County Sheriff's Department at their meeting Monday night despite a fierce public backlash, ending a long-simmering debate about the future of public safety in the city.
Mayor Pro Tem Sepi Shyne's motion to amend the city's budget for 2022-23 and 2023-24, proposed by City Manager David Wilson, will ultimately leave West Hollywood with four fewer deputies on patrol.
The budget was narrowly approved in a split vote, with Shyne and Councilmembers Lindsey Horvath and John D'Amico voting in favor, and Mayor Lauren Meister and Councilmember John Erickson voting against it. For months, Meister has vocally opposed reducing the sheriff's presence on city streets.
"I'm not going to vote for the budget if we cut the sheriff's (funds)," Meister said. "First of all, nobody has the gun problem that we have in this country. You can't expect us to have a public safety team where most of the people aren't armed in order to defend our citizens."
Shyne's amended budget re-allocates the funds for the sheriff's deputies to the Block by Block program, which staffs the unarmed, blue-shirted security ambassadors who provide the city with supplemental law enforcement services. Two deputies will be removed in six months, and three more deputies will be removed six months after that, though an Entertainment Policing Team deputy will be restored. Thirty Block by Block security ambassadors will be added to the program's contract. 
"Along with the West Hollywood Community," the Sheriff's Department said in a statement, "we are disappointed that as part of the approved city budget, four deputies will be cut in the upcoming months. We would like to thank all the residents who were opposed to this vote and responded in its opposition. It appears outside activists had more weight than the residents of West Hollywood."
The reallocation is a victory for progressive activists, alternative policing advocates and opponents of Sheriff Alex Villanueva, who have pressured WeHo's leaders to reduce funding for the department all year long. The movement gained steam this spring when Public Safety Commissioner Nika Soon-Shiong led her colleagues in recommending the budget reduction to City Council.
For months, residents and business owners from all over the city have expressed their deep concerns about cutting the sheriff's budget in the midst of a crime wave and at a time of general unease. 
Ruth Williams, a co-founder of West Hollywood who passed away this month, addressed the Public Safety Commission in April with a plea to preserve the sheriff's presence.
"We need our deputies on the street, and we need more of them. We need them on foot patrol. We need them on bikes. We need to bring back whoever was defunded, and even add more. Crime is up. People are yelling for more public safety, not not less," Williams said.
Shyne said the sheriff's record of combating crime was not keeping pace with the rising costs of the department, and that the Block by Block program represented more "bang for the buck."
"What we know now is our residents want foot patrols. We need to be fiscally responsible And we have all talked for two years. Reimagining policing means reallocating funding. You can't just say it without actually doing it. Period."