This week's decision by City Council to defund the Sheriff's Department was the culmination of a highly coordinated strategy advanced by progressive policy makers, alternative policing advocates and a slew of insular activist groups.
A story published in the Davis Vanguard quotes leaders of the organizations — which include JusticeLA, Partners for Justice, Fund for Guaranteed Income, CURB, La Defensa, Dignity and Power Now, Gender Justice LA and Re-Imagine LA Coalition — as they affirm their roles in the defunding effort, as well as hinting at their future ambitions.
"West Hollywood City Council's decision to significantly reduce the reallocation of funding from the corrupt and fiscally incompetent Los Angeles Sheriff's Department is indefensible," said Ivette Alé-Ferlito, Dignity and Power Now's director of policy and advocacy.
"As a Queer migrant organizer, I and many others in the community would like to see a full transformation of WeHo's public safety system. The Public Safety Committee's proposal to shift $3.6 million from the Sheriff's budget was not that; it was simply a pragmatic step towards a more holistic vision that prioritizes care, and the Council could not deliver. The $2.4 million dollars they chose not to reallocate means that community-based services like HIV prevention, alternative crisis response, and mental health care will remain underfunded."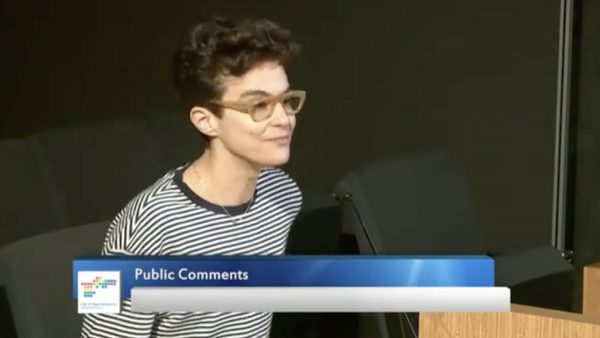 Ambrose Brooks, the coordinator for JusticeLA Coalition often seen at City Council meetings, was also unsatisfied with the extent of the sheriff's budget reductions.
"West Hollywood City Council's June 27 budget vote is a step in the right direction: away from funding Sheriff's violence and towards investing in care," Brooks said. "The LA County Sheriff's Department is charging contract cities tens of millions of dollars each year to criminalize Black, Brown, Queer, and Trans communities. Other Los Angeles County contract cities must take the same path as West Hollywood, and also re-evaluate their costly contracts with LASD."
"WeHo's bold yet insufficient decision to reallocate funds from the largest and deadliest sheriff's department in the world laid down the gauntlet for other contract cities. The Council's decision indicates what is possible, and what is next, in LA county –– the reimagination of public safety as investments in community-based alternatives to law enforcement," according to a statement issued by the social justice groups."