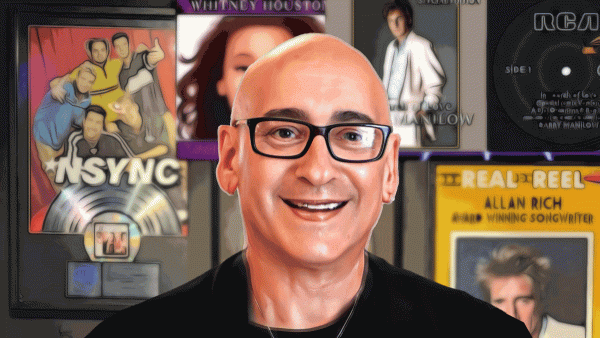 The Hollywood Museum recently unveiled a new exhibit in honor of Pride month in partnership with L.A. City Councilmember Mitch O'Farrell. The retrospective of images in film and television tells the story of the milestones and influences that LGBTQ+ characters and plot lines have had in Hollywood, from early stereotypes to modern day representations.
Featured prominently in "Real to Reel: Portrayals and Perceptions of LGBTQ+ in Hollywood" is songwriter Allan Rich, who has twice been nominated for an Oscar, as well a Grammy, Golden Globe and an Emmy.
Best known for writing the Whitney Houston hit "Run to You" off The Bodyguard soundtrack, Rich's songs have sold more than 65 million copies around the world.
He told WEHOville it's a honor being in an exhibit in The Hollywood Museum he could never have foreseen.
"I could pinch myself!" he said. "It's like a dream that you can't could come true. I'm proud to represent my career but also proud to represent myself as a gay man who's written for some of the greatest female singers and male singers — whether it's Tina Turner, Rod Stewart, Barbra Streisand, Luther Vandross, Patti LaBelle, Gladys Knight, Dolly Parton."
Rich's first hit song was Natalie Cole's top 10 pop hit ballad "I Live For Your Love" co-written with Pam Reswick and Steve Werfel. The next year, he co-wrote (with longtime writing partner Jud Friedman) James Ingram's #1 pop and #1 adult contemporary song "I Don't Have The Heart." In the following years, Rich's hits include Oleta Adam's #1 Adult contemporary song "I Just Had To Hear Your Voice," "I Drive Myself Crazy," (NSync) and landed songs in Runaway Bride, Outrageous Fortune, Sweet Liberty as well as Playing For Keeps. Rich also scored two #1 dance singles "Stronger" and "Walk Away" by Kristine W.
The story of his biggest hit, "Run to You," began with an ex-boyfriend of his.
"I had a boyfriend for 10 years and we kept on making up and breaking up, making up and breaking up. And this was a day that we were breaking up for good. He lives right here on Sycamore and Hollywood Blvd., he still lives in the same apartment.  I dropped him off at his building. It has a glass staircase, and I watched him walk up the stairs, and my initial reaction was to run after him. But I pulled out a piece of paper and put it on the steering wheel and wrote 'I want to run to you, I want to run to you.' And that's how it happened. It was based on a breakup in my own life." 
"Real to Reel: Portrayals and Perceptions of LGBTQ+ in Hollywood" is currently on display at the Hollywood Museum, 1660 N Highland Ave.